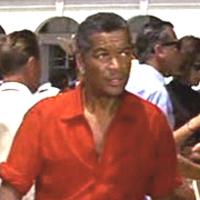 Veteran Bermudian actor Earl Cameron is appearing at a series of film screenings in London next month to discuss how the decline and fall of the British Empire was portrayed in UK cinema during the 1950s and '60s.
The British Film Institute [BFI} and political magazine "New Statesman" are partnering to present the "End of Empire" series.
Being held at the BFI's Southbank facility, films in the series include "Simba" which co-stars Mr. Cameron and the late Dirk Bogarde. Set during the Mau Mau uprising against British rule in Kenya, the 1955 film screens on November 9 and Mr. Cameron will lead an audience discussion after it's shown.
"The 'End of Empire' series captures how cinematic visions of empire have evolved," said a BFI spokesman. "During the early days of film, an imperialist agenda heavily informed the exotic and adventurous colonial scenes which fascinated British audiences. Victory in the Second World War stimulated national optimism, which led to continued affection for glamorous portraits of colonialism. However, the rise of national Independence movements from the mid-1950s on helped to inculcate a more liberal perspective.
"Britain's dramatic imperial decline after the Suez Crisis of 1956 further affected film; the problems associated with withdrawal and a lingering sense of colonial responsibility took centre stage, at the expense of patriotic adventures."
"End of Empire" runs at BFT Southbank, London from November 3-30.
Born in Pembroke in 1917, Mr. Cameron was one of the first black actors to break the "colour bar" in film and television in the United Kingdom in the early 1950s. Still working at the age of 94, some of his more recent film roles include a major appearance alongside Nicole Kidman in 2005′s "The Interpreter", a cameo as a royal portrait painter in "The Queen" with Helen Mirren and a part in the 2010 Leonardo DiCaprio science fiction blockbuster "Inception."
Read More About
Category: All, Entertainment, Films/Movies