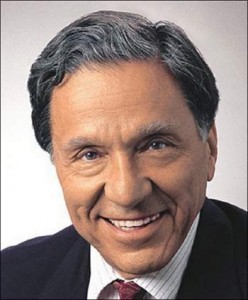 Bermuda oil driller Nabors Industries is coming under fire after "The Wall Street Journal" revealed the company had paid $100 million to chairman Eugene Isenberg after he relinquished his post as chief executive.
The "Financial Times" reported this afternoon that Hamilton-based company has faced shareholder rebellions in the past over compensation paid to the estates of deceased executives and executive pay.
"It's a huge payout and again Nabors shareholders are the losers," said Peter Flaherty, president of the National Legal and Policy Center, a shareholder activist group, which holds Nabors stock.
"It seems that Isenberg [pictured] has absolutely no regard for appearances, even when corporate excess is under scrutiny."
Nabors did not comment on the payout when contacted by "The Financial Times".
The $100 million payday was already causing waves in corporate circles.
"We believe the compensation to Mr. Isenberg is excessive," Jeff Dietert, an analyst at Simmons & Co. in Houston, wrote Monday in a note to investors. A $100 million payment "for what we view as essentially retiring will be offensive to some."
Tony Petrello, Nabors president, now takes over as CEO. Mr. Isenberg continues in his position as chairman.
Read More About