[Updated] Hundreds of people made their way to Hamilton in the early hours of this morning [Nov.25] to take advantage of the Black Friday sales. Even before 5am, traffic was buzzing, parking was hard to find and long lines had formed on the streets.
Black Friday is the day following Thanksgiving Day in the United States and traditionally the beginning of the Christmas shopping season.
In the US, most major retailers open extremely early, often at 4 a.m., or earlier, and offer promotional sales to kick off the shopping season.
Although some individual Bermuda stores have staged Black Friday sales in the past, this year marks the first time there has been a major push by Hamilton retailers to draw shoppers out for pre-dawn sales.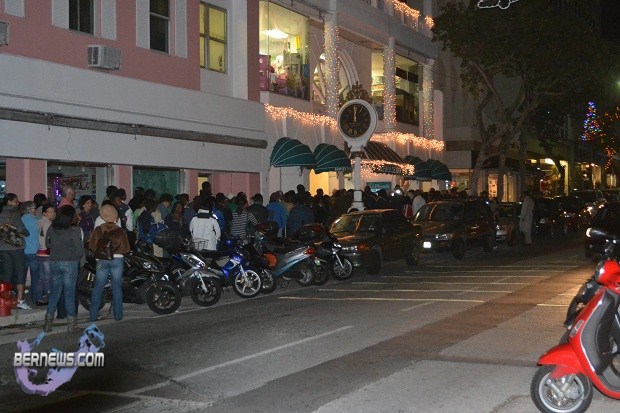 As of 5am, the lines outside both the Phoenix and Brown and Co. buildings were approximately four-to-five people deep and both ran fairly long.
The Phoenix line ran from the store's Reid Street doors onto Queen Street til it reached Kentucky Fried Chicken while the Brown and Co. queue snaked around almost to Front Street. Both stores were offering up to 40 percent off on merchandise.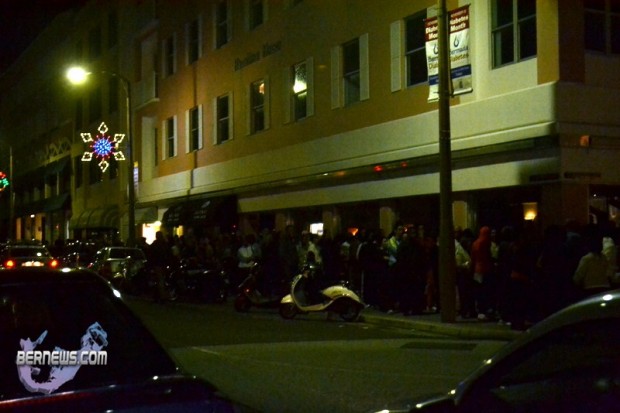 With two hours left till the Digicel store opened, a dozen people were already stationed in line. Police were monitoring lines, with officers stationed at the junction of Reid Street and Queen Street, as well as on Church Street.
The throngs of people gathered in Hamilton in the pre-dawn hours were good humoured. They were excited by the bargains on offer, chatting with one another and — at one point — cheering loudly when it seemed that the stores were about to open their doors. Laughter ensued when the shoppers realized it was a false alarm.
Even past the official opening hour at 5.30am the lines prevailed, with both Phoenix and Brown and Co allowing people into the stores in groups and holding others outside so there was an orderly flow of shoppers into the stores.
Update 6.24am: One hour past opening time, there are at least 50 people in each line outside the two stores. A short video shot outside the Phoenix at 6.15am is below. The Digicel store appears to have opened early, having originally been scheduled to open at 7am.
Police continue to patrol, and there are some traffic issues as drivers keep stopping their cars in the middle of Reid Street and Queen Street to load them full with shopping bag.
Update 6.36am: The lines outside Phoenix and Brown and Co are considerably smaller, containing around 25 people combined.
Update 6.44am: Digicel on Church Street has been open for at least 30 minutes, and there is still a small line outside, as pictured below. Digicel CEO Wayne Caines is on scene handing out Digicel bags and umbrellas.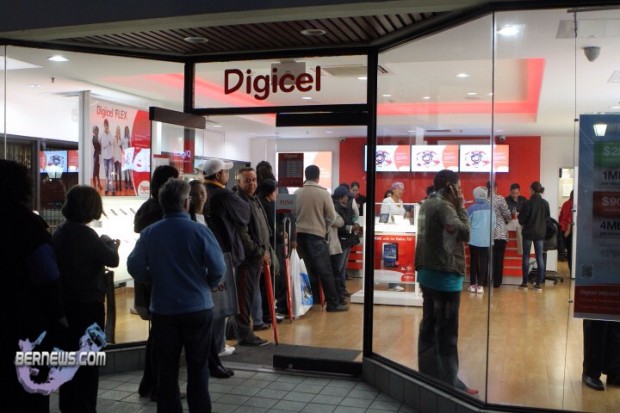 Update 6.47am: CellOne is not yet open and has a line outside, as pictured below.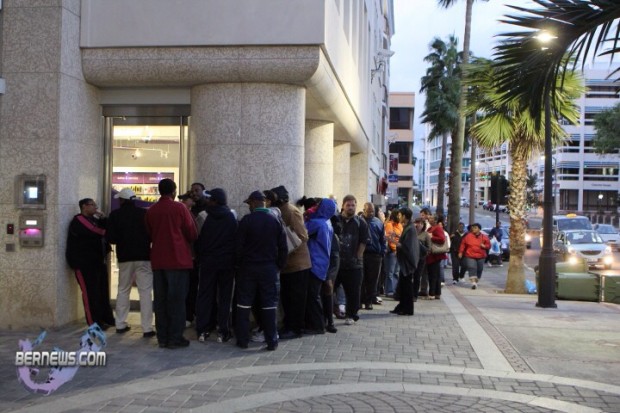 Update 6.55am: CellOne is about to open at 7am, and have been giving out free food to the shoppers who are waiting in line, video below.
Update 7.08am: CellOne is now open, everyone walked in a very orderly fashion and staff — wearing special Black Friday t-shirts — organized everyone into two lines. There are still about 50 people in line outside.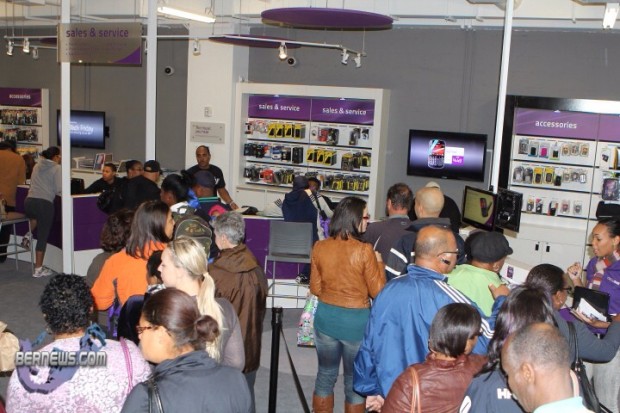 Update 7.10am: Digicel has been open for just over one hour and still has a small line outside. There is a station set up outside the store serving coffee and pastries.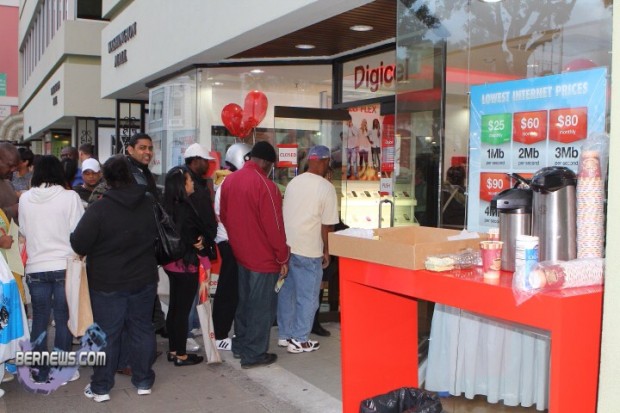 Update 7.27am: Reid Street is lot calmer then earlier this morning, there are no longer any lines outside the stores.
Update 8.25am: Quick video from earlier this morning with Digicel CEO Wayne Caines, who said they had lines outside both the Church Street and Court Street branches.
Update 8.56am: Phoenix Stores Head of Marketing & Communications Tina Adderley said it is too early to provide estimates of the dollar value of sales this morning, but called the sale a "resounding success."
She said hundreds of people flooded through the doors starting at 5.30am with everyone "calm and happy". Ms Adderly said the Phoenix had both security and extra staff in for the morning, however shoppers came in with ideas, knew what they wanted to buy and everything went extremely smoothly.
She said you "could not ask for a better shopping event", and when asked if the Phoenix plans to hold the event again next year, she laughed, and said she "can see that coming."
Asked how the store traffic was as of 8.45am, she said although it is not as busy as 5.30am, there were still large amounts of customers taking advantage of the 20% off, which was down from the 40% offered this morning, which they will be offering till they close at 9pm tonight.
Update 9.47am: Additonal videos are on our Youtube channel, and the video below has five interviews; one of the first shoppers in line who said she came into Hamilton at around 2.30am, Aziza Ahad from Digicel, Brown and & Co. General Manager Nicole Warren, as well as representatives from the Annex and CellOne.
Read More About