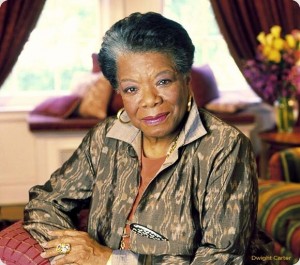 Kwanzaa is not an African-American replacement for Christmas — it is a cultural celebration rather than a religious holiday.
And Bermudians who want to learn more about the annual observance now have an opportunity to do so when Citizens For Uprooting Racism in Bermuda [CURB] and Chewstick screen the groundbreaking film "Black Candle" next Wednesday [Dec.7].
"The Black Candle" is a landmark documentary film that uses Kwanzaa as a vehicle to explore and celebrate the African Diaspora experience.
Narrated by world renowned poet Dr. Maya Angelou [pictured], "The Black Candle" provides both historical depth and contemporary relevance and is an extraordinary, inspirational story about the struggle and triumph of family, community, and culture.
Filmed across the United States, Africa, Europe and the Caribbean, "The Black Candle" is a timely illumination on why the seven principles of Kwanzaa — unity, self-determination, collective work and responsibility, cooperative economics, purpose, creativity and faith — are relevant today.
The first feature film on Kwanzaa, "The Black Candle" traces the holiday's growth from the first celebration in 1966 to its present-day reality as a global holiday embraced by over 20 million celebrants.
With vivid cinematography and an all star cast that features National Football League l
Legend Jim Brown, hip hop icon Chuck D, Kwanzaa's founder Dr. Maulana Karenga, artist Synthia Saint James and many others, "The Black Candle" is more than a film about a holiday: it's a celebration of a people.
The film will be shown at Chewstick's Neo-Griot Lounge at the corners of Court and Elliott Streets at 6 pm next Wednesday.
This event has been approved for professional development hours by the Bermuda Educators Council. Admission is free.
Read More About
Category: All, Entertainment, Films/Movies