The Department of Statistics released the final results of the 2010 Census of Population & Housing today [Dec.9].
In 2010 Bermuda's civilian non-institutional population was 64,237 persons, compared with 62,059 in 2000. The foreign-born population grew 5%, while Bermuda-born declined 3%. The Bermuda-born population totaled 42,802 [67%] while there were 18,532 [29%] foreign-born persons.
Smith's and Pembroke Parish experienced negative growth in population size, while the fastest growing parishes in population size were St. George [+18%], Paget [+12%] and Hamilton [+11%].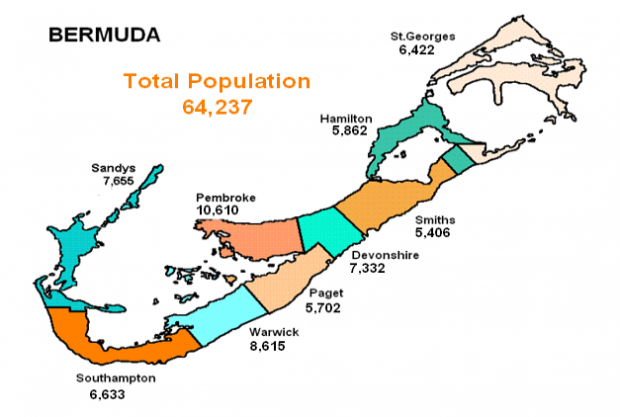 Persons born in the U.K. remained the largest group of the foreign-born population at 3,942 persons. However, this population group declined 19%, as did the number of persons born in Canada [%13] and the Azores/Portugal [10%].
There was a substantial rise in the number of persons born in the African and Asian countries. Between 2000 and 2010, the number of persons residing in Bermuda who were born in Asian countries more than doubled, while those who were born in African countries nearly tripled. There number of persons who were born in the Caribbean increased by 583 nationals
On health conditions, the report said 40% of the population reported having at least one health condition in 2010, and the five most commonly reported health conditions affecting Bermuda's population were seeing difficulties, high blood pressure, asthma, diabetes and arthritis.
There was a decline in public school enrollment of 24% since 2000, while enrollment in private school increased 14%. In 2010 there were 1,434 persons enrolled at the senior school level, compared with 1,060 in 2000, an increase of 35%. This was followed by a 21% increase in private school enrollment at the middle school level.
The number of degree holders rose by 31%. Bermudians [+36%] led the way compared to non-Bermudians [+23%]. Black Bermudians holding university degrees increased 39% rising from 2,844 persons in 2000 to 3,966 persons in 2010. In comparison, white Bermudians holding degrees increased 25% over the ten-year period.
The labour force grew by 6% since 2000, from 37,879 in 2000 to 39,989 in 2010. The 2010 Census results said that 2,586 persons were looking for work during the week preceding Census Day 2010 compared to 1,001 persons in 2000. The number of unemployed persons more than doubled, pushing the unemployment rate to 6% in 2010 from 3% in 2000
The median age of persons marrying for the first time increased by three years from 24 years to 27 years old. On average, males married later [28 years old] in life than females [26 years old] when marrying for the first time. In 2010, the rate of marital breakdown was 23% compared to 21% in 2000
Hard copies of the 2010 Census Report Final Results can be obtained from the Department of Statistics, 3rd Floor, CedarPark Centre, Cedar Avenue, Hamilton.
The full 48-page report is below, click 'Fullscreen' for greater clarity:
Read More About