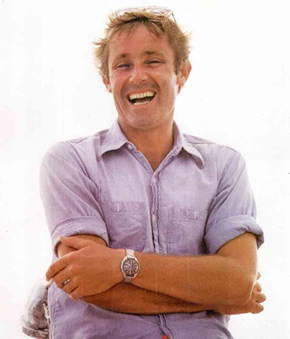 He once said Teddy Tucker brought the world to Bermuda and Bermuda to the world.
But novelist and ocean explorer Peter Benchley [pictured] deserves no small degree of credit for arranging the introduction.
The one-time White House speechwriter and "National Geographic" correspondent played a large role in nudging the Bermudian adventurer into the global limelight with his bestselling novel "The Deep" – a romanticised take on Mr. Tucker's wreck-diving exploits  – and the subsequent movie adaptation.
Mr.Benchley — grandson of legendary Algonquin Round Table humourist and critic- Robert Benchley — became smitten with both Mr. Tucker and Bermuda when he came to the island on a "National Geographic" assignment in the early 1970s.
"There's no mountain hiking and the skiing is terrible, but everything else a vacationer could want is here," the author of "Jaws" once jokingly said of the Bermuda.
What Mr. Benchley wanted more than anything during his visits — and he was a fixture on the island until shortly before his death in 2006 — was to dive the island's shipwrecks.
An estimated 300 to 500 ships spanning four centuries came to grief both on the ring of coral reefs which encircle Bermuda and closer to shore.
While researching his "National Geographic" Bermuda report, Mr. Benchley had interviewed Mr. Tucker and his wife Edna at their West End home and immediately fell under his rough-hewn spell.
"I met them [the Tuckers] in 1969 or '70 when the 'National Geographic' sent me down to tell the story of Bermuda by the shipwrecks around it," he later recalled. "And the way you did that of course was to be put in touch with Teddy Tucker. The man is a walking encyclopedia, one of the great autodidacts in the history of science.

Opening And Closing Sequences Of "The Deep", Filmed In Bermuda In 1976
"Here is a man who, on his own, has become one of the world's leading experts on everything from coins to ships, to nautical history, to underwater archaeology, to painting and glassware. Here is a man who had been dismissed for many years by serious scientists, and only now have they begun to realise that he knows 10 times more than most of them do."
Not only was he enchanted with Mr. Tucker, the American journalist soon came to share his passion for exploring Bermuda's shipwrecks.
Mr. Benchley chronicled his romance with Bermuda wreck diving in a 1989 travel article he wrote for the "New York Times."
"What is this thing?" he wrote. "A ship, you say? Well, no. Not anymore. Once she was a ship, a few centuries ago. Now she looks like something that spent a hundred years in a food processor and another hundred in a trash compactor.
"She must have struck the reef over there and slid off into this sand hole and stuck, all of her, and wallowed and worked and rocked back and forth under the force of tide and current and countless storm seas, vanishing into the living coral and beneath the shifting sand until, back in 1983, a sharp-eyed Bermudian spotted an anomaly on the bottom and decided to investigate.
"What is she now? A ship? No longer. No more than a skeleton is a man. For what used to be 30 or 40 feet high, deck upon deck of bilge space and cargo space and living space; what used to carry stout masts and square sails; what was home to bold and questing men (or were they fearful, unwilling voyagers impressed from squalid dockside taverns?) has been squashed into a lumpy paste six or eight feet thick.
"It is unlikely that she will ever yield answers to her mysteries, for there is nothing special enough about her to warrant expensive, exhaustive academic exploration. She was of ordinary design — the Chevy truck of her day– carrying ordinary cargo on ordinary routes.
"But to me she is wonderful, for she lets me touch the past. To feel a strand of rope that no man has touched in more than 200 years, to plunge a hand into a mass of indigo unseen since before America's Revolution, to fan away the sand and uncover a pair of leather shoe soles, one with a raised heel indicating a short leg or a clubfoot – these sensations allow me to travel in time on a ship of my own imagining.
"I choose not to dwell on the fact that my good fortune is the direct result of their ill fortune, of their stupendously bad luck in sailing east across the trackless Atlantic in blissful ignorance that they were heading directly toward the one infinitesimal speck in all the sea that could send them to the bottom: Bermuda."
Mr. Benchley was an advisor to the Bermuda Underwater Exploration Institute on East Broadway — which features permanent displays commemorating his friend and mentor Mr. Tucker's exploits — and penned a second bestselling sea yarn set in the island's waters, the 1991 novel "Beast."
Teddy Tucker On Exploring Bermuda's Shipwrecks
Read More About