While most children in Bermuda will be enjoying a relaxing Christmas holiday at home, groups of keen youth sailors will be travelling to New Zealand and Miami to compete in the International Optimist Dinghy Association (IODA) World Championship in Napier, New Zealand and the annual Orange Bowl Regatta, hosted by the Coral Reef Yacht Club in Key Biscayne, Florida.
Antonio Bailey, Michael Barit, Rory Caslin, Makai Joell and Ceci Wollmann will be travelling half-way around the globe to take on the world's best youth sailors under the age of 16. They will be accompanied by Team Leader and Bermuda Optimist Dinghy Association (BODA) President, Anthony Bailey and Country Rep, Hugh Barit.
Photo of the Bermuda IODA Worlds Team, L-R Team Leader, Anthony Bailey, Antonio Bailey, Michael Barit, Rory Caslin, Makai Joell and Ceci Wollmann, Country Rep Hugh Barit: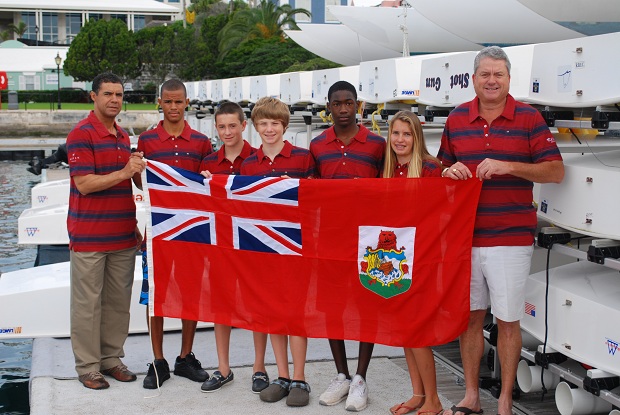 Team Bermuda will be coached by Bermuda's high performance coach, Zizi Staniul from Poland. 210 sailors from 48 countries are registered. The regatta starts on December 30th and runs through January 10th. Local companies, Aspen and Kitson & Co. are the major sponsors of this year's Bermuda World's Team. Supporters can follow their progress on their blog .
Nine other sailors will be heading to Flordia on Boxing Day representing their local clubs. Sailing in the 139 boat Laser Radial Division is Mackenzie Cooper, Kalin Hillier and Owen Siese. Ellie Wollmann and Hannah Horsfield will be sailing together in the two man Club 420 class which has over 70 boats registered.
On the Optimist dinghy course, Bermuda is well represented by Chase Cooper, Yannick Hillier, Matilda Nicholls and Mickey Wollmann. This year's Optimist fleet consistes of 246 entries. This year's Orange Bowl Regatta runs from Dec 27th through the 30th will attract 533 sailors age 8 to 18 from 23 states and 22 countries.
Read More About