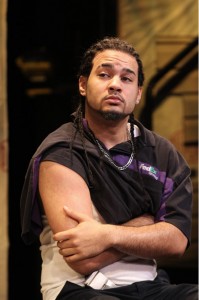 "Hurt Village" — the new Off-Broadway show featuring Bermudian actor Nicholas Christopher [pictured] — opened to largely enthusiastic reviews on Monday [Feb.27], with the "New York Times" describing the play "as a rousing, latter-day response" to Lorraine Hansberry's watershed 1959 drama "A Raisin in the Sun."
Like that classic play, playwright Katori Hall's new offering is centred around an African-American family, ruled by an elderly woman of will, preparing to leave a shabby, claustrophobic apartment for a newer, brighter home.
"And like the Younger family of 'Raisin', Ms Hall's clan is going to encounter plenty of obstacles before it can make that move," said "Times" critic Ben Brantley. "… Where there's vitality, there's hope, though. And while 'Hurt Village' has its problems, being depressing isn't one of them. The production begins with its 13-year-old heroine, Cookie (Joaquina Kalukango), rapping an exultant love-hate poem to Hurt Village, the apartment complex where she has grown up, on the eve of its demolition. When she chants, 'This be the war', what she's describing is a daily life in which you're always either armed for combat or as good as dead.
"Much of what follows in this play, directed by Patricia McGregor and vividly acted by a cast that includes the formidable Tonya Pinkins, is infused with the locomotive rhythms of that opening declaration of war. 'Hurt Village' elicits the adrenaline-stoked ambivalence in the competitive rapping and insult swapping that are among its characters' favorite forms of recreation."
Nicholas Christopher — Wearing Baseball Cap — And The "Hurt Village" Cast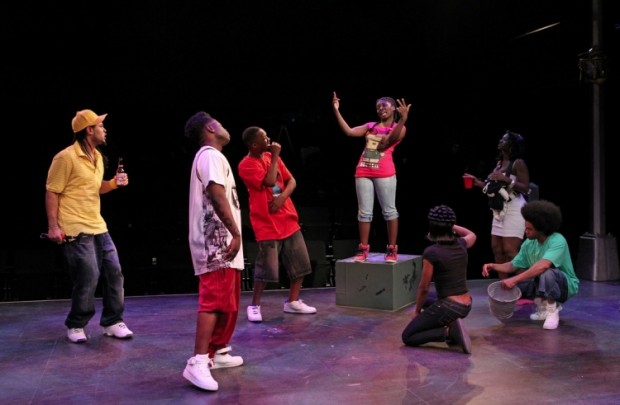 Mr. Brantley continued: "If the cast members are aware that what they're saying doesn't always come naturally, they never let on. They inhabit David Gallo's evocative urban-jungle jumble of a set (and Clint Ramos's sociologically exact costumes) with fervent and affecting conviction. And they make sure we feel the emotional double edge with which their characters regard one another."
Tennessee-born playwright Ms Hall is the writer of the current Broadway sensation "The Mountaintop", a freestyle meditation on Dr. Martin Luther King Jr. and how he spent the last night of his life prior to his 1968 assassination in Memphis. That play stars Samuel L. Jackson and Angela Bassett.
"Entertainment Weekly" magazine gave the "Hurt Village" a "B+" rating, calling the play "a sprawling, cacophonous elegy on Dubya-era life in a Memphis, Tenn., housing project."
The magazine's theatre critic said: "Thanks to the intimate confines of the 245-seat Romulus Linney Courtyard Theatre at Off Broadway's just-opened Signature Center, audiences are practically plunged into the 'modern day wasteland' of Hall's memory. And David Gallo's tattered, torn-up set—half junkyard, half family room, wholly depressing — is seedy perfection.
"But Hall's characters and her lyrical prose would be memorable no matter the geographic setting. There's crack-house king Tony C (Ron Cephas Jones), Tony's crony Ebony (Charlie Hudson III), the badly scarred, big-hearted Skillet (Lloyd Watts), small-time pusher Cornbread (Nicholas Christopher), his self-proclaimed feminist baby mama Toyia (Saycon Sengbloh), her BFF Crank, a crackhead-turned-hairdresser (Marsha Stephanie Blake), Crank's crazy just-back-from-Iraq ex-lover Buggy (Corey Hawkins).
"But the show's two standouts are Buggy's baseball bat-carrying grandmother, Big Mama (played by a de-glammed, padded, aged, and incredible Tonya Pinkins) and Crank and Buggy's 13-year-old daughter, Cookie (23-year-old Joaquina Kalukango, in a star-making performance). Cookie is the play's heroine, voice of reason, and guidepost — an amateur rapper who throws down some sick rhymes."
In an otherwise positive review, the Bloomberg financial news network's critic Philip Boroff said the play's "uncompromising language can jolt unaccustomed ears and be difficult to decipher."
He pointed out "the 'N' word is casually uttered more than 200 times" and "the 'F' word makes more than 100 appearances."
The son of Hamilton Crier Ed Christopher, Boston Conservatory- and Juilliard School-trained Nicholas Christopher joined the cast of "Hurt Village" after appearing in the acclaimed New York revival of the rock musical "Rent."
He made his professional American theatre debut last year in the US touring company of the Broadway musical "In The Heights."
Trailer For The Nicholas Christopher Play "Hurt Village"
Read More About
Category: All, Entertainment, Videos