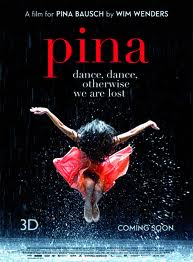 Along with the inaugural Modern Masters section, the 15th Bermuda International Film Festival [BIFF] is adding a second new category this year called "Masterworks" which will showcase films from the most influential auteurs living today.
This line-up includes Best Documentary Feature Academy Award nominee, "Pina," joined by European Film award-winning "Le Havre," Asian Pacific award-winning "Once Upon a Time in Anatolia" and 2011 Berlinale Grand Jury Prize and Competition Prize winner, "The Turin Horse."
"Pina" is a 2011 German 3D documentary film about the contemporary dance choreographer Pina Bausch directed by Wim Wenders.
The film premiered Out of Competition at the 61st Berlin International Film Festival.
During the preparation of the documentary, Pina Bausch died unexpectedly. Wenders cancelled the film production, but the other dancers of Tanztheater Wuppertal convinced him to make the film anyway.
It showcases these dancers, who talk about Pina and perform some of her best-known pieces, inside the Tanztheater Wuppertal and in various outdoor locations around the city of Wuppertal.
Trailer For "Pina"
"Le Havre" is a 2011 comedy-drama film written and directed by Aki Kaurismäki, starring André Wilms, Kati Outinen, Jean-Pierre Darroussin and Blondin Miguel. It tells the story of a shoeshiner who tries to save an immigrant child in the French port city Le Havre.
The film was produced by Kaurismäki's Finnish company Sputnik with international co-producers in France and Germany. It is Kaurismäki's second French-language film, after La Vie de Bohème from 1992.
The film premiered in competition at the 2011 Cannes Film Festival, where it received the FIPRESCI Prize. Kaurismäki envisions it as the first installment in a trilogy about life in port cities. His ambition is to make follow-ups set in Spain and Germany, shot in the local languages
Trailer For "Le Havre"
"Once Upon a Time in Anatolia" is a 2011 Turkish drama film, co-written and directed by Nuri Bilge Ceylan based on the true experience of one of the film's writers, telling the story of a group of men who search for a dead body on the Anatolian steppe.
The film, which went on nationwide general release across Turkey on September 23, 2011, premiered at the 2011 Cannes Film Festival where it was a co-winner of the Grand Prix.
Dave Calhoun, reviewing the film for "Time Out London", said: "Ceylan is a sly and daring screen artist of the highest order and should draw wild praise with this new film for challenging both himself and us, the audience, with this lengthy, rigorous and masterly portrait of a night and day in the life of a murder investigation …"
"Displaying a new interest in words and story (albeit of the most elusive kind), 'Once Upon A Time in Anatolia' feels like a change of direction for Ceylan. Things happen when they do and at a natural rhythm. … Ceylan invites us along for the ride – but only if we're up for it."
Trailer For "Once Upon A Time In Anatolia"
"The Turin Horse" is a 2011 Hungarian drama film directed by Béla Tarr and Ágnes Hranitzky, starring János Derzsi, Erika Bók and Mihály Kormos. It was co-written by Tarr and his frequent collaborator László Krasznahorkai.
It recalls the whipping of a horse in the Italian city Turin which is rumoured to have caused the mental breakdown of philosopher Friedrich Nietzsche. The film is in black-and-white, shot in only 30 long takes by Tarr's regular cameraman Fred Kelemen, and depicts the repetitive daily lives of the horse and its owner.
The film was an international co-production led by the Hungarian company T. T. Filmműhely and premiered in 2011 at the 61st Berlin International Film Festival, where it received the Jury Grand Prix.
BIFF 2012 runs from March 16-22 featuring more than 80 films screening both in competition and also in such categories as Shorts and Masterworks. The online and physical box office — courtesy of Freisenbruch Meyer at 75 Front Street in Hamilton —  opens today [Mar.7].
Trailer For "The Turnin Horse"
Read More About
Category: All, Entertainment, Films/Movies, Videos