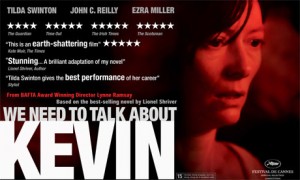 The upcoming 15th Bermuda International Film Festival [BIFF] has added a new showcase to its 2012 line-up spotlighting  exciting new works from some of the world's most respected contemporary directors.
BIFF's inaugural Modern Masters section will feature five widely acclaimed 2011 releases from a diverse selection of countries and genres.
The 2011 production "We Need To Talk About Kevin" is a highlight in the new BIFF section, having attracted award nominations including Best Actress Golden Globe and British Academy of Film & Television Arts nods for Tilda Swinton and Best Director for Lynee Ramsay at the British Independent Film Awards.
"We Need to Talk About Kevin" is adapted from the 2003 novel by Lionel Shriver about a fictional school massacre. It is told from the perspective of the killer's mother and documents her attempt to come to terms with her son, Kevin, and the murders he committed.
The "New York Times" said the harrowing film "follows a kind of dream logic in telling a chronologically splintered story, weaving patterns of associated images and sensations into an intense and claustrophobic web of fear.
"But the vividness of its effects makes the film very much a particular parent's nightmare, pitched at the extreme boundary of everyday anxieties."
Featuring a score by Jonny Greenwood of the band Radiohead, "Chicago Sun-Times" critic Roger Ebert gave the film 4 out of 4 stars and said: "As a portrait of a deteriorating state of mind, 'We Need To Talk About Kevin' is a masterful film".
"We Need To Talk About Kevin" Trailer
Director Whit Stillman's oomedy "Damsels in Distress" [2011], the death penalty documentary "Into the Abyss" [2011] and the whimsical Korean feature about films and filmmaking "The Day He Arrives" [2011] will also screen in the Modern Masters showcase.
In "Damsels In Distress" cult director Whit Stillman — whose 1990 film "Metropolitan" featured Bermudian actor Will Kempe – focuses on the escapades of three girls set out to change the male-dominated environment of their college campus and to rescue their fellow students from depression, grunge and low standards of every kind.
Stillman has filmed three comedies of manners — or what he calls "comedies of mannerlessness" — "Metropolitan", "Barcelona" [1994] and "The Last Days of Disco" [1998]; he also published a novel based on the last of these films.
"Damsels in Distress" premiered at the 2011 Venice Film Festival as the closing film
"Damsels In Distress" Trailer
Acclaimed German director Werner Herzog takes audiences to an American prison's death row in "Into The Abyss", subtitled "A Tale of Death, A Tale of Life."
The documentary film is about two men convicted of a triple homicide which occurred in Conroe, Texas. Michael Perry received a death sentence for the crime, and Jason Burkett received a life sentence.
The film focuses on the two convicts and various people affected by the crime.
The film's premiered at the 2011 Toronto International Film Festival and was billed as being one among several "hot-button political documentaries" at the festival. But director Herzog, however, has stated that he has no political intentions with the film.
While he personally opposes capital punishment, in an interview with the "Los Angeles Times" the director: "This is not an issue film; it's not an activist film against capital punishment," and, "Yes, it has an issue, but it's not the main purpose of the film."
One of the most anticipated Korean films of 2011, director Hong Sangsoo's latest work "The Day He Arrives" is characteristic of the auteur's comic dramas. The film follows a regional college professor and occasional filmmaker on a trip to Seoul, and proceeds to show versions of what could have been a day or perhaps several different days.
As with most of his other idiosyncratic works, the film has a very Korean setting for almost subtle character interaction that makes for interesting viewing as well. "The Day He Arrives" takes place mostly in the Bukchon district of Seoul, which is known for its traditional Korean-style houses and artistic atmosphere which is filled with cafés, galleries and a public library.
BIFF 2012 runs from March 16-22 featuring dozens of films screening both in competition and also in such categories as Shorts and Masterworks.
The online and physical box office — courtesy of Freisenbruch Meyer at 75 Front Street in Hamilton — will open at 11am tomorrow [Mar.7].
"The Day He Arrives" Trailer
Read More About
Category: All, Entertainment, Films/Movies, Videos