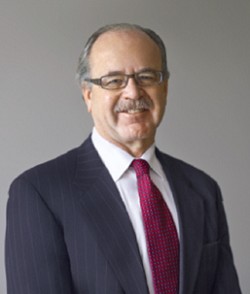 The Bermuda Insurance Institute [BII] today [Mar.22] announced the winners of the Fourteenth Annual Insurance Industry Awards. The recipients will be honored at a gala dinner to be held on May 19, 2012 at the Fairmont Hamilton Princess.
The Lifetime Achievement Award recognizes a person who has distinguished his/herself in the industry over the course of their career, and has influenced and developed organizations, products, talent or industry networks with a view to building the future success for the Bermuda market.
The recipient of the 2011 Award is Patrick Thiele [pictured], former Chief Executive Officer of PartnerRe Ltd. Patrick joined PartnerRe in 2000, retiring in 2010.
Under his leadership PartnerRe maintained its strong position in the market, preserved its reputation and its client base and was transformed into one of the world's leading global reinsurance companies. Widely respected as a credible reinsurance business leader, he was frequently sought out for his opinion on industry issues and was active in a number of industry associations, including The Geneva Association, the Association of Bermuda Insurers and Reinsurers [ABIR] The Global Reinsurance Forum and St. John's School of Risk Management.
In 2008, he represented Bermuda's insurers and reinsurers at the International Regulatory Dialogue in Brussels and participated in the Roundtable on Financial Mechanisms and Risk Management Instruments at the first United Nations Private Sector Forum on the Millennium Development Goals and Food Sustainability. During his tenure as Chairman of ABIR, the organization engaged in extensive regulatory reform work with the Bermuda Monetary Authority [BMA] on equivalence with Europe's Solvency II insurance regulatory framework.
He also led ABIR's efforts to engage with European policymakers to document the important contribution of its members in the European market. He consistently called for appropriate regulation and greater transparency, provided support for the BMA's transparency working group, and talked to the International Monetary Fund on Bermuda's regulatory framework in their review of Bermuda. Patrick also championed Bermuda as a business centre of excellence and as a first class choice to headquarter a leading global company.
The Industry Leader of the Year Award recognizes a person who has made a significant contribution to the insurance industry in Bermuda during 2011 through outstanding leadership, unique thought leadership or outstanding ability that has influenced the market in a positive way beyond the results of their organization.
The recipient of the 2011 Award is Constantine [Dinos] Iordanou a founding member of Arch Capital Group Ltd. and its current Chairman, President and Chief Executive Officer. Arch has built an enviable track record of profitable underwriting and disciplined capital management in 10 years with Book Value per Share growing an average of 18.7% since 2002. Capital has grown from $276 million in September of 2001 to more than $5 billion at year end 2011 after $2.6 billion of capital was returned to shareholders through share repurchases.
Arch employs nearly 1400 employees in countries around the world. Mr. Iordanou also serves as Chairman of ABIR, where he continues the policy work on Solvency II. He also serves as a Director of Verisk Analytics [formerly ISO Inc.], and is the past Chair of the American Insurance Association (AIA) . He is a founding member of the Pancyprian Association of America, established in 1975, and is one of its seven lifetime trustees.
The Young Industry Leader of the Year Award recognizes an individual under the age of 35 who, over the previous year, has made a significant contribution to his/her own organization, promoted professionalism, ethics and the development of talent and technical expertise, and focused on achievement in both their career and in the wider community in Bermuda.
The recipient of the 2011 Award is Candace Roach. She is a Senior Regulatory Accountant at Validus Reinsurance, Ltd. a position she has held since 2010. She is considered a focused and charismatic future industry leader, with a strong array of technical qualifications — CA, CPCU, ARe, AIS, AIM, ARM, ARM-E — and the intelligence to remain composed under pressure, whilst delivering first class results on a consistent basis. She continues to work towards the ACII, AIAF and ARC designations.
She is considered an asset to her company and executive team, taking on opportunities wherever they present themselves, to the extent that a department has been formed around her to deal with all compliance issues across the company. She is involved with ABIR on the Financial Reporting and Transparency Committee and also sits on the BMA Group Task Force with respect to reviewing legislation.
She is a member of the CPCU Leadership Council and the CPCU Society Candidate Development Committee and the U40s, volunteering with sporting and charitable events and maintaining several mentoring relationships. Further, she is considered an inspiration to the young women in the industry and is involved in the regular meetings of WiRe [Women in Reinsurance].
BII President John Wight congratulated the recipients and said: "The achievements of the 2011 Awards Recipients highlights the exemplary level of leadership and commitment to building a solid reputation of excellence in the Bermuda market, and to developing the talent required to support successful business development over the long term. The BII is pleased to recognize these individuals for their market leading contributions."
Read More About