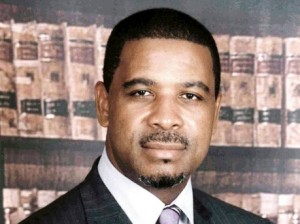 Former premier of the Turks and Caicos Islands Michael Misick announced he has sought political asylum in an unnamed country after Interpol issued an arrest warrant for him in connection with allegations of government corruption.
The Special Investigation and Prosecution Team [SIPT] in the Turks and Caicos said they obtained the Interpol arrest warrant after Mr Misick refused to surrender voluntarily.
A statement from SIPT earlier this week said: "For the past several months the SIPT has sought to secure the attendance of Mr Misick at its offices in Providenciales in respect of allegations of corruption and money laundering during his time in office.
"Every opportunity has been given to Mr Misick to voluntarily surrender to the SIPT's jurisdiction for interview. Despite previous indications from Mr Misick's solicitors that he would attend for interview, he has failed to do so."
Mr Misick released a statement in response saying, "I am not a fugitive, and will never be a fugitive. I have applied for political asylum from another country and I am merely seeking protection from political persecution." He did not name the specific country he was seeking asylum in.
In August 2009 the TCI Governor, on the instructions of the UK Foreign Office, imposed direct rule on the Turks and Caicos Islands by authority of an Order-in-Council issued by the Queen. The islands' administration was suspended and power was transferred to the UK-appointed Governor.
"I am convinced that this whole persecution is because of my views and firm plan to move our country towards Independence," said Mr Misick in a press statement released this week.
"This plan goes counter to the British and their supporters in the Turks and Caicos Islands. That is why stories were fabricated by the opposition, the British and their supporters in order to call for a Commission of Inquiry."
Mr Misick continued on to say, "They have also suspended democracy. The Governor and the prosecutor control the executive, the legislative and the judiciary."
"If another country had done this, the British would have been outraged and they would seek international sanctions against that country. This is double-standard and political persecution of the highest order. They have sought to politically persecute us because we desire to live in an independent Turks and Caicos Islands…"
Turks and Caicos is a British Overseas Territory along with Bermuda and 12 other jurisdictions. Bermudians first made their way to the island in the late 17th century, to seek benefits from their profitable salt-raking industry. Mr Misick has visited Bermuda previously, and there have been reports that Mr. Misick may have Bermudian ancestry.
Mr Misick's full statement follows below:
My fellow Turks and Caicos Islanders, I address you today March 19, 2012,with a heavy heart as I have been left with no other choice than to seek political asylum in a third country other than my beloved Turks and Caicos Islands

My reason for doing so is simple because of the political persecution that is taking place to me and my family, former Cabinet Ministers and their families and a select few developers who supported me and my Progressive National Party during my tenure as Premier of the Turks and Caicos Islands.

I am convinced that this whole persecution is because of my views and firm plan to move our country towards Independence. This plan goes counter to the British and their supporters in theTurks and Caicos Islands. That is why stories were fabricated by the opposition, the British and their supporters in order to call for a Commission of Inquiry.

It is unprecedented for a Commission of Inquiry to be comprised of a sole commissioner. It is my view that Sir Robin Auld came to Turks and Caicos Islands with specific instructions from the Foreign Office as to what the outcome of the Commission of Inquiry will be. In short, the outcome was pre-determined.

To add insult to injury, they have bypassed the entire legal system by appointing a Special Prosecutor whose primary goal is to get rich of the backs of Turks and Caicos Islands' tax payers and to make a name for herself. Helen Garlick has already collected over $20 million of Turks and Caicos Islands tax payers' money and is slated to collect at least another $10 million in 2012, at a time when the interim government is laying off hundreds of civil servants, cutting pensions and other benefits and increasing taxes.

There is no way that I, or any of the persons that have been accused by Helen Garlick and her team, can get a fair trial. The British Government, aided by two governors, Gordon Wetherell and now Ric Todd, have abolished our fundamental right to jury trial.

They have also suspended democracy. The Governor and the prosecutor control the executive, the legislative and the judiciary. They have changed so many laws such as the Proceeds of Crime Bill, laws pertaining to evidence, laws pertaining to hearsay all in an attempt to convict me and my colleagues.

If we have done something illegal why is there a need to change so many laws in order to secure a conviction? Why could we not be tried under the same system that thousands of people were tried under over the years? Why did they have to abolish our Parliament and the Executive? Is it so that they, including the prosecutor, can change the laws and the entire judicial system uninhibited without the normal checks and balances that exist in a democracy to ensure their goal which is the conviction of me and my colleagues?

If another country had done this, the British would have been outraged and they would seek international sanctions against that country. This is double-standard and political persecution of the highest order. They have sought to politically persecute us because we desire to live in an independent Turks and Caicos Islands, where the rule of law applies to everyone; where the rules and laws can't be changed to get rid of a person or government because you disagree with their political views and goals.

Finally, we can never get a fair trial considering the changes that were made and the interference with the justice system by the Governor, the Foreign and Commonwealth Office and the Special Prosecutor Helen Garlick.

You have the situation where the Governor appoints the prosecutor, she will choose the judge and the Governor appoints who she chooses. The Governor at a public meeting has already announced that we are guilty, therefore the whole notion of a trial is a show. We know, and all Turks and Caicos Islanders know, that the verdict has already been decided by the Foreign and Commonwealth Office, the Governor the prosecutor and the Judges that they have chosen.

All of the laws and rules that have been changed, were done on the recommendation of the Special Prosecutor to ensure a conviction. This is a complete set-up for a modern-day John Crow political lynching. I will not be part of that. I have therefore sought protection from another country in accordance with the United Nations Convention on Human Rights and the human rights laws of that country, as it is my right to do and the right of any person that is being politically persecuted.

Let be clear. I am not a fugitive, and will never be a fugitive. I have applied for political asylum from another country and I am merely seeking protection from political persecution.

I will continue to bring challenges to clear my name and that of my government and colleagues. I dream to return to my homeland as an independent, victorious, proud and free nation.

My Brothers and Sisters my prayers continue to be that May God of Jacob, Isaac and Johna protect us and deliver us out of the hands of the Philistines and restore our pride, human rights and democracy so we can resume building a prosperous nation with both political parties continuing to make their contributions as we chart our own course and fulfill our God-given destiny.

Michael Misick

Former Premier of Turks and Caicos Islands.

March 19, 2012
-
Read More About