Hundreds of BIU members marched from Union Street to KFC's Queen Street location this morning [June 1], to protest the fast food restaurant's latest decision in their ongoing dispute.
Last night the BIU called an emergency General Membership meeting for 8am this morning to discuss the ongoing dispute with KFC Bermuda.
Bus and ferry services were suspended across the island for the morning, and other services such as postal delivery and waste management were affected as workers made their way to the meeting.
Hundreds of BIU members from various divisions made their way from the Bermuda Industrial Union headquarters on Union Street to Court Street, then onto Reid Street and Queen Street.
The members marched onto Queen Street, formed a line outside KFC, where they chanted slogans such as "United we stand, Divided we fall," and "Eat Mr Chicken," while uniformed police officers stood in the area and onlookers gathered.
The BIU members then marched around the block proceeding along Church Street, Burnaby Hill, through Reid Street and Queen Street for a second time before making their way back to Union headquarters. BIU President Furbert said they wanted to make sure "KFC got the clear message that the workers are in support of the workers at KFC."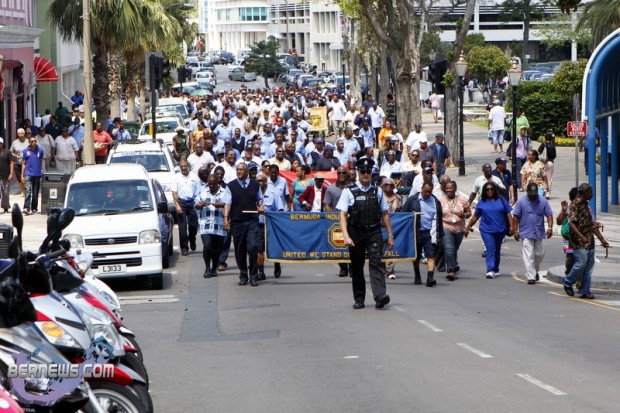 BIU Divisions/workers marching today included the Port Division, Construction Division, Postal Division, Corporation of Hamilton Division, TELCO, Public Transportation, Hotels, Parks, Works & Engineering, and Custodians. View videos of the march here.
Last month KFC Bermuda started legal action seeking a judicial review of Minister Patrice Minors' decision to send the dispute to arbitration, and yesterday the Government announced they have started legal  proceedings seeking a Court Order to prevent KFC Bermuda from interfering with the "integrity of the Arbitration process."
Click to enlarge photos:
Related Posts