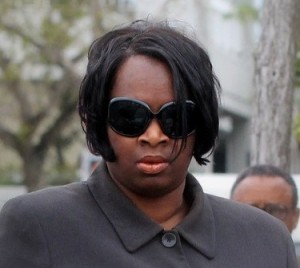 Former banking executive Barbara Tannock was sentenced to six months in prison this afternoon [July 6] after pleading guilty to stealing $76,500 from an elderly couple.
During her sentencing hearing, she returned most the money she was convicted of stealing, with her lawyer handing over a cashier's check for $70,000.
Ms Tannock, 42, previously pleaded guilty to five counts of theft from the accounts from Mr and Mrs Place, an elderly couple who owned Place's Place bar in Hamilton. The offences took place in 2009 and 2010, and Mr Place passed away during that time.
The couple had known Ms Tannock through her job at a local bank, and when she started her own company she convinced the Places to become clients, where she proceeded to use her position to plunder their bank account.
Ms Tannock will also, by Court Order, have her name entered into Bermuda's Register of Senior Abusers.
Noting that the maximum sentence for fraud involving breaches of trust was ten years in prison, but noting Ms Tannock's clean record and taking into account the amount, the Crown recommended a sentence between 18 and 24 months.
Defence lawyer Marc Pettingill produced a cashier's cheque in the amount of $70,000, drawn on Butterfield Bank, made out to the Accountant General; which he offered as a payment of part restitution by Ms Tannock. He spoke of her intelligence and said that she was a well-educated woman who was ambitious.
Justice Greaves said that people who commit fraud "…are not dumb. They are smart." He also said that according to the Social Inquiry Report she has a high propensity to re-offend.
Just prior to sentencing, given her opportunity to speak, Ms Tannock said that she had a fall from grace and that as a result she had lost her reputation, her credibility, and had broken some relationships.
Becoming tearful and in a slightly choking voice, she said: "I accept what I have done, that it was wrong." She went on to say that the cheque was a valid check and that it represented real money that was in the care of the bank.
Justice Greaves began his sentencing comments by saying that he had never heard such an eloquent speech from the dock where the accused person stands. He said: "Facts are facts. These were terribly dishonest acts." The Justice said that in his view, the offence merited a term of imprisonment of 18 months.
Rejecting Mr Pettingill's recommendation for a sentence not involving incarceration, Justice Carlyle Greaves handed down a sentence of six months in prison for each of five counts, to run concurrently for a total of six months. In addition, he ordered that Ms Tannock must serve a two probation period after her release.
The Justice also imposed a special condition that if the cheque turned out to be a bad cheque, Ms Tannock must serve 18 months in lieu.
After sentencing she was escorted directly from Court into a van, and taken away to begin her prison sentence.
- File photo
Related Posts
Category: All, Court Reports, Crime, News