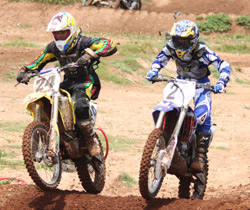 The Bermuda Motocross Racing Season continued yesterday [July 22] at the Moto Sports Park in Southside. Jayden Simmons came away with the top honors on the day in the Pee-Wee Class, with Keegan Jones finishing second and Szaine Williams finishing in third, Zano Tucker took the line honors in the 50cc Class on the day, Moses Johnson was second and Rajae Whitter finished third.
The 65cc Class was won by Kai-Jun Simons, while Michael Burrows Jr. finished second and Logan Jones was third, meanwhile in the 85cc Class honors went to Jayden Ming and T'Zare Gibson finished second.
Zamair Darrell won the Junior Super-Mini Class, with Zendai Ingham-Fubler finishing second.
The Super-Mini Class was won by Jyire Mitchell, while Jonah Smith rode to victory in the B Class, Aaron Cannonier finished second and LJ DeGraff finished third.
The C Class honors for the day went to Kenneth Mathie, while Tariq Bell finished second and Tyquan Perinchief finished third. Otis Ingham won the Over 30's Class, while Le-Troy Trott finished second and Ali Hatherley finished third. Lorenzo Burch won the 450cc Class with Trott finishing second and Ingham finished third.
Pee-Wee
1 Jayden Simmons
2 Keegan Jones
3 Szaine Williams
4 Rayal Simmons
5 Viquan Chambers
6 Serjoh Berhoes
50cc
1 Zano Tucker
2 Moses Johnson
3 Rajae Whitter
4 J'auza James
65cc
1 Kai-Jun Simons
2 Michael Burrows Jr.
3 Logan Jones
4 Keon Glasford
5 Kodi Simmons
85cc
1 Jayden Ming
2 T'Zare Gibson
Junior SuperMini
1 Zamair Darrell
2 Zendai Ingham-Fubler
Super-Mini
1 Jyire Mitchell
C Class
1 Kenneth Mathie
2 Tariq Bell
3 Tyquan Perinchief
4 Chekari Gibbons
5 Janeiro Watts
6 Tristan Rocha
7 Tyray Lathan
B Class
1 Jonah Smith
2 Aaron Cannonier
3 LJ DeGraff
4 Zico Majors
Over 30's
1 Otis Ingham
2 Le-Troy Trott
3 Ali Hatherley
4 Jason Harrell
450cc
1 Lorenzo Burch
2 Le-Troy Trott
3 Otis Ingham
Read More About