Miss Bermuda Rochelle Minors departed Bermuda this evening [July 18], heading to China where she will represent the island in the 2012 Miss World Pageant.
The Pageant finals are being held in Inner Mongolia, China on August 18, with a host of events being held before the final day of competition. 120 nations are expected to send representatives to the international pageant, which was first held in 1951.
Miss Minors' parents say good-bye: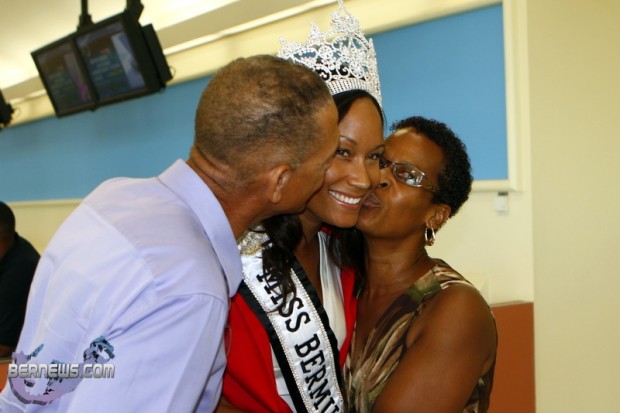 Speaking at the airport this evening Miss Minors said: "Since I have been crowned it has been a crazy week. We have been very busy preparing for the Miss World Competition, and I had a lot of things I had to to, alot of preparation. I feel I ready to go and represent the country."
"I am really looking to being in China and taking in the experience. It is the opportunity of a lifetime to be a part of the Miss World Pageant," she continued.
Miss Minors, her parents and her grandparents: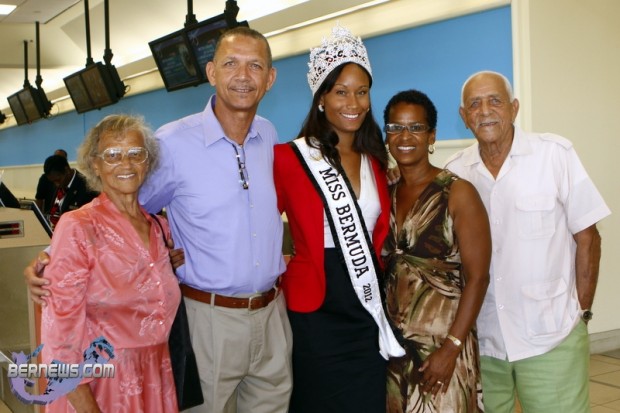 Miss Minors' proud family and friends gathered at the airport to wish her well, and other Bermudians present could be heard calling out their best wishes to her.
Premier Paula Cox happened to be at the airport as she was returning from her recent trip to London, and came over and extended her best wishes to Miss Minors, telling her she wished she could attend the event and cheer for her.
Premier Cox and Miss Minors:
A well known model on the local scene, she has modeled in numerous fashion shows across the island since the age of 14, walked the catwalk during London Fashion Week, served as a hair model for the renowned salon Vidal Sassoon and participated in Salon International.
Miss Minors is a Berkeley Institute graduate, and has an Associates Degree in Art and Design with Distinction from the Bermuda College. She presently lives in London where she is studying for a BA (Hons) in Fashion Design at the University for The Creative Arts in Rochester.
The 22-year-old student and fashion model beat out seven other hopefuls earlier this month to claim the title.
Read More About
Category: All, Entertainment, News, Style & Beauty, Videos