Ascendant Group Limited's 10-year commitment to assist the Department of Conservation Services with the ongoing restoration of Nonsuch Island Nature Reserve, took another step this past week with the donation of a propane-powered refrigerator for the Conservation Officer's cottage.
Working with Government Facilities Manager, Bill Mitchell, Ascendant-subsidiary Bermuda Gas determined that the refrigeration needs of the Conservation Officer could best be met by a Unique brand, 13-cubic-foot propane refrigerator.
Propane is often used in remote locations, such as Nonsuch Island, where there is no electricity to power essential equipment, such as appliances.
Propane refrigerator leaving the barge at Nonsuch Island: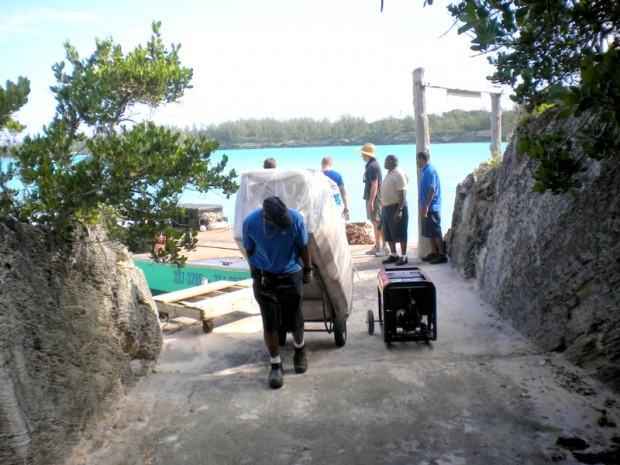 According to Bermuda Gas Sales Manager, David DeSilva, "Unique has the only complete line of certified propane refrigerators on the market in North America today. The Unique 13 model supplied to Nonsuch combines the capacity of a larger fridge with the exterior dimensions to fit in a more confined space."
Delivery of the propane fridge to its new home involved truck transport to the Tucker's Town public dock and delivery by barge to Nonsuch Island. The last leg of the journey required that the 225 lb. fridge be carried by several men from the Nonsuch dock to the cottage, where it was installed by Bermuda Gas refrigeration specialist, Brendon Outerbridge.
Bermuda Gas Refrigeration Specialist Brendon Outerbridge installing fridge: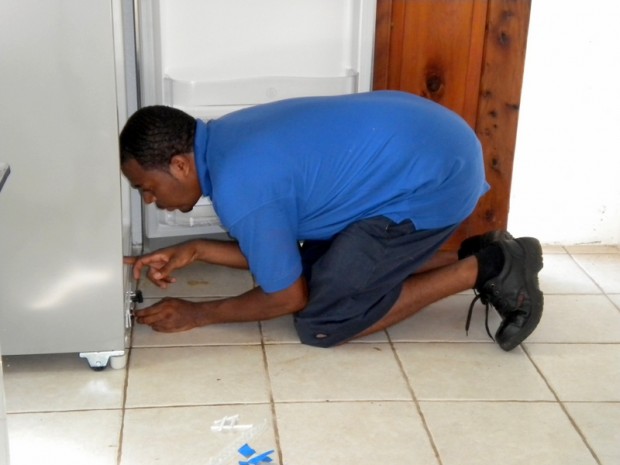 "This donation will be a huge asset, greatly extending the ability of not only the custodian to stay on the Island, but also the students of the Nonsuch Natural History Camp and researchers who regularly visit the Reserve," said Drew Pettit, Director.
The Ascendant Group's partnership with Government was undertaken to help protect native and endemic species on Nonsuch Island for the enjoyment and education of future generations.
Related Posts
Category: All, Environment