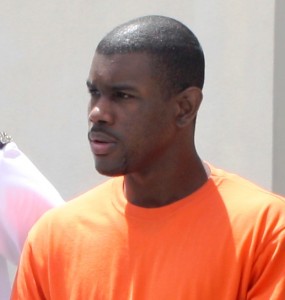 Cervio Cox, 28, appeared in the Supreme Court Arraignments session this morning [Aug 1] and pleaded not guilty to the attempted murder of Lavon Thomas and Darren Thompson in March of this year.
He also pleaded not guilty to two charges that he used a firearm to commit an indictable offence against two people.
Mr Cox was remanded and will re-appear in August 2012 to hear the Crown's application to join his case with that against Devon Hewey. He is represented by lawyer Charles Richardson.
The shooting occurred around 3:45am on Saturday, March 24th on Reid Street Extension in the City of Hamilton and resulted in shots being fired into the windows of Sir John Swan's Seon Place office building.
Mr Cox is the second person to be charged in connection with the shooting, as in April of this year 23-year-old Devon Hewey was charged in relation to the incident.
- File photo
Related Posts
Category: All, Court Reports, Crime, News