[Updated] The "object" that was found in Bermuda waters yesterday [Aug 12] is a scientific glider used to collect marine data which was recently deployed by scientists from the Bermuda Institute of Ocean Sciences [BIOS].
The Harbour Radio Duty Officer said, "Bermuda Radio can confirm that the suspected missile spotted on the crown of challenger bank is in fact a scientific glider used to collect marine data. The unit was recently deployed by scientists from BIOS in conjunction with Woods Hole Oceanographic Institution .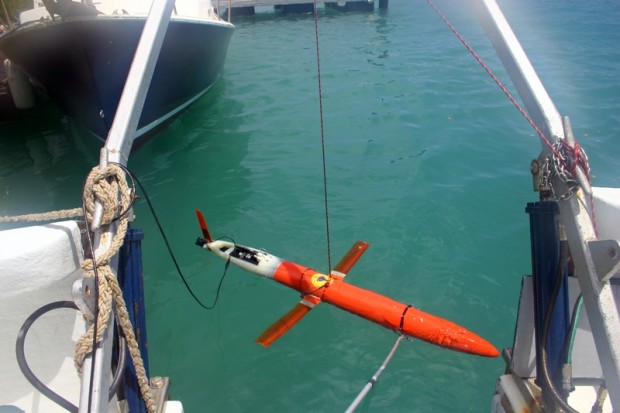 "The instrument stopped transmitting data around 48 hours ago and was considered lost. BIOS and Woods Hole are keen to recover the unit. Any sighting of the glider should be reported to Bermuda Radio so that retrieval can be arranged," concluded the Duty Officer.
The glider had caused great interest last night, with many people trying their hand and guessing what it might be. Some people did guess correctly that it was a scientific object used by BIOS, while many others thought it may have been some form of missile/drone/torpedo/bomb.
Update 9.15am: Larry George from the Woods Hole Oceanographic Institution in Massachusetts [website] confirmed that the object is a spray glider/autonomous underwater vehicle which is used to collect information about the ocean and is controlled remotely.
The glider was deployed in Bermuda waters on August 10th, and they lost all contact with it on August 11th, and assumed it was lost until they received a phone call late last night.
The glider was deployed to record data such as fine ocean currents, with Dr Jong Jin Park and Dr Breck Owens from Woods Hole the scientists in charge of the research.
Asked how many of these gliders are in our waters, Mr George confirmed that this is the only one. He explained the glider was marked, however it was upside down in the water hence the marking was not visible.  He also the fact the glider was upside down indicated that something had gone wrong with it.
As of this writing the glider is still in the waters, but a team from BIOS is heading out this morning to try and recover it.
Read More About