In its quest of becoming an "International Centre of Educational Excellence" and exposing students to global issues and perspectives, Warwick Academy has recently entered into a partnership with Amnesty International Bermuda to become the first "Human Rights Friendly School" on the Island.
Warwick Academy will be piloting this project for three years and will serve as a model for other interested schools in Bermuda. In the process, it will join a network of 21 Human Rights Friendly schools from around the world.
L-R: Suzanne Wilson, Amnesty International Bermuda Director, Nelleke Hollis, Amnesty International Bermuda Chairperson, Margaret McCorkell, Warwick Academy Headmistress, Françoise Wolffe, Human Rights Friendly Schools Coordinator for Amnesty International Bermuda, Courtney Clay, Amnesty International Youth Coordinator and Y13 student at Warwick Academy.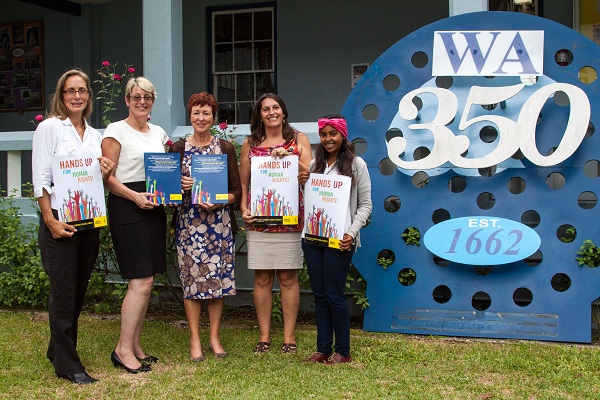 The "Human Rights Friendly Schools" project is a global project developed by Amnesty International within the context of the United Nations World Program for Human Rights Education.
It is in line with the United Nations "Declaration on Human Rights Education and Training" dated December 19, 2011 which stipulates that:" Everyone has the right to know, seek and receive information about all human rights and fundamental freedoms and should have access to human rights education and training".
According to Mrs. Françoise Wolffe, "Human Rights Friendly Schools" Coordinator for Amnesty International Bermuda: "The originality of this program is that it offers a wholeschool approach to human rights education. Four main areas of the school-life are considered when promoting Human Rights principles within a school: governance, curriculum, relationships and school environment.
"This goes beyond just the teaching of a Human Rights lesson in the classroom. It empowers students to recognize abuses when they are confronted with them and it encourages them to become agents of change in their community". Warwick Academy was selected to pilot the project in Bermuda because it presented many characteristics of a typical "Human Rights Friendly School".
"The school culture already embraced some of the key values promoted by Amnesty International thus providing a solid foundation for the project. Additionally, we considered that the diversity of the Warwick Academy student body would be an asset to the program" observed Mrs. Wolffe.
A working group comprising of representatives from all sections of the school, including students and parents, was recently set up at Warwick Academy. Its role is to lead the implementation of the "Human Rights Friendly Schools" initiative and encourage the participation of all members of the school community. Two teachers representing both Primary and Senior School were also appointed to focus more specifically on curriculum development.
"Great progress has already been achieved with the planning process in a very short period of time. It is very rewarding to work with such an enthusiastic team and I look forward to continue on this journey with the school, over the next three years." added Mrs. Wolffe.
Mrs. McCorkell, Warwick Academy Headmistress, is equally pleased that Warwick Academy is now a 'Human Rights Friendly School": "This ties in not only with my personal focus but also mirrors our school's mission and vision as well as our strategic plan. I would like to thank Mrs Wolffe for piloting this scheme with our staff and students and also thank Amnesty International for their support and guidance".
Related Posts