Minister of Business Development & Tourism Wayne Furbert said he is "delighted to share outstanding projections" announced by partners at the World Travel Market [WTM] in London this year.
The Ministry said that BA Holidays', our largest tour operator, reported sales for Bermuda are up 36% year on year, whilst forward bookings for British Airways, until July 2013, are up an impressive 39% for 2013.
Minister Furbert, Miss Bermuda Rochelle Minors and the Gombeys at the WTM: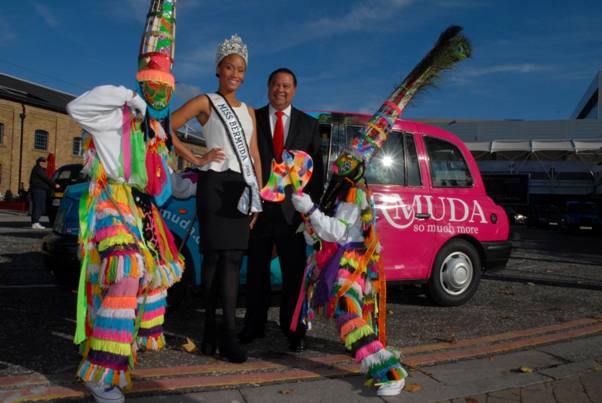 "We are thrilled with the success of our partnership with BA Holidays, which has produced outstanding results for Bermuda sales, despite the current economic challenges faced by UK holiday makers" says Minister Furbert.
"We are equally delighted with the ongoing support of British Airways this year, partnering with the BDOT to promote both the Avios and companion-goes-free offers, which have worked wonders for raising the profile of the destination and, importantly, increasing passenger numbers for the coming year by way over a third.
"With every effort in place to continue a tight collaboration with these and other UK partners and with more exciting promotions planned for 2013, we are extremely confident of meeting and exceeding targets over the next 12 months."
The Minister, Director of Tourism along with a Queen Elizabeth look-a-like and others at the WTM: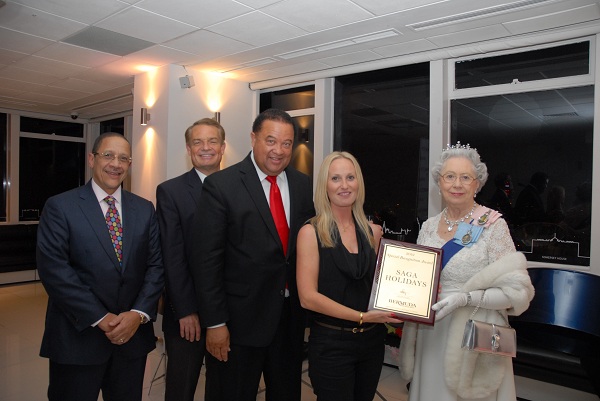 The UK, along with Canada, continue to be key secondary markets for Bermuda. Hotel partners attending WTM with BDOT included representatives for Fairmont, Cambridge Beaches, The Reefs and Grotto Bay, all of which have reported increases in advanced bookings, as reflected in the most recent PACE reports. Saga Holidays is projecting a 400% increase in bookings for next year at Grotto Bay, the Ministry said.
Minister Furbert said: "This represents an exciting time for Bermuda following the recent launch of the new brand. BDOT will also be revealing new promotions very shortly to stimulate the market for further growth in 2013."
Read More About