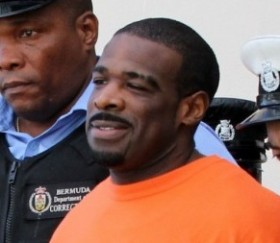 [Updated] David Cox's appeal continued yesterday [Nov 6], with lawyer for the 33-year-old convicted murderer continuing to argue his case in front of the Appeals Court.
In August 2010, Troy "Yankee" Rawlins was fatally shot in the entrance of Spinning Wheel nightclub on Court Street, and Mr Cox was charged with murder later that month.
During the trial the court heard that Mr Rawlins was shot 16 times, viewed the CCTV footage of the shooting, and testimony was presented that Mr Rawlins had ties to Parkside, while Mr Cox was said to have ties to 42.
Mr Cox was convicted of murder, and in July 2011 he was sentenced to life in prison, with the Court ruling he must serve a minimum of 38 years in prison before he can be considered for parole.
His appeal began on Monday with his lawyer Larry Mussenden saying that part of the Crown's evidence tendered by Police Sergeant Rollins should not have been admitted as 'expert evidence' and that the jury might have been unduly influenced by this treatment of Sgt Rollins.
Mr Mussenden continued his appeal yesterday in front of three Court of Appeal judges, and closed in the afternoon. The Prosecutor is expected to address the points raised by Mr Mussenden as the appeal continues today.
Heavy security as David Cox is transported back to Westgate:
The process ended around 4:30pm and Mr Cox was lead out and put into a prison van and driven off to Westgate. There were armed police present at the Court, and the prison van left with a police escort both in front and behind.
Update 12.05pm: Mr Mussenden wrapped up this morning at 10:50am, and Deputy Director of Public Prosecutions Cindy Clarke began the Crown's response at 10:55am. The heavy police presence continues.
- File photo
Read More About
Category: All, Court Reports, Crime, News