[Updated] The Progressive Labour Party is holding an East End Rally this evening [Dec 6] at the St George's Cricket Club starting at 7pm. All the candidates from Constituencies 1 through 12 are scheduled to speak, and the promo poster said the event is scheduled to include live performances, entertainment, food vendors and a special appearance by Premier Paula Cox.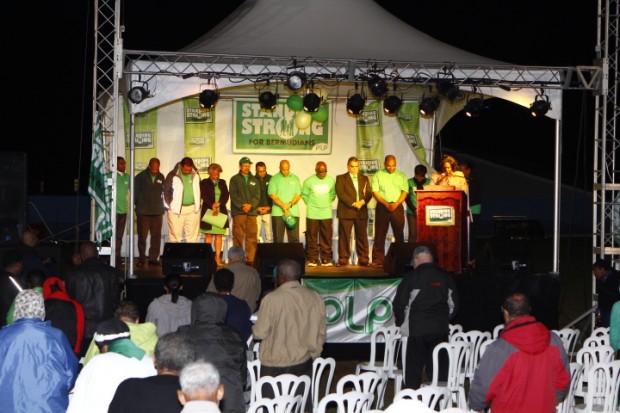 The candidates who are scheduled to speak, and the constituencies they will be running in are: Anthony Richardson in C#12 Devonshire South Central, Neville Tyrell in C#11 Devonshire East, Patrice Minors in C#10 Smith's North, Vance Campbell in C#9 Smith's West, Wayne Perinchief in C#8 Smith's South, Diallo Rabain in C#7 Hamilton South, Wayne Furbert in C#6 Hamilton West, Derrick Burgess in C#5 Hamilton East, Pastor Leroy Bean in C#4 St. George's South, Lovitta Foggo in C#3 St David's, Renee Ming in C#2 St. George's West and Dame Jennifer Smith in C#1 St. George's North.
The rally has ended & the 2.5 hour webcast replay is below. Drag the bottom bar to fast forward:
Update 11.30pm: The rally ended just before 10pm, with all the candidates taking the stage while B.L.A.C. performed the PLP song.
Patrice Minors was one of the first to speak and said the PLP has come too far to wave a flag of surrender "They say it's his," she said presumably referred to her competitor in C#10 Michael Dunkley. "They say that the boundaries are in his favour. But I am not surrendering."
Wayne Perinchief said: "We are not anti-business, but we are pro Bermudian. And the last time I checked, that's who we represent. And we don't have to hide people or send surrogates to tell the story."
Wayne Furbert sang a few bars before beginning his speech saying "This is my first rally. I couldn't do this on the other side." He went on to quote Martin Luther King Jr. saying "Free at last, Free at last, Thank God almighty we are free at last."
Derrick Burgess noted that at one point some war veterans did not get a pension, saying:"It took this Government to correct that discrimination." He went on to say: "We have done so much for seniors and will continue to do that."
Lovitta Foggo told the audience "You have to vote," and pointed out the struggles people went through so that all people were able to vote.
Renee Ming walked out while the 1970′s hit "We are Family" was playing, and was accompanied on stage by her family including her mother, grandmother and 96-year-old great-grandmother.
Premier Cox was the last to speak and said the upcoming election is a "defining moment" for Bermuda.
"Politics is not a spectator sport," said the Premier. "Each one of us has a stake in the outcome of this election. And we have a choice to make in this election. Your PLP party needs you, your PLP candidates need you"
"And the choice is really very simple, you can choose to go forward or you can choose to go backwards," said the Premier.
The times listed below by the person's name indicate the approximate time they start speaking on the webcast replay. You can fast forward the video above to the applicable point by dragging the bottom bar.
Anthony Richardson at 18 mins, Neville Tyrell at 25 mins, Patrice Minors at 33 mins, Vance Campbell at 36 mins, Wayne Perinchief at 44 mins, Diallo Rabain at 52 mins, Wayne Furbert at 60 mins, Derrick Burgess at 1 hr 15 mins, Pastor Leroy Bean at 1 hr 21 mins, Lovitta Foggo at 1 hr 40 mins, Renee Ming at 1 hr 51 mins, Dame Jennifer Smith at 2 hrs 2 mins, and Premier Paula Cox at 2 hrs 14 mins.
Click to enlarge photos:
Read More About