Twenty-one students from CedarBridge Academy left Bermuda this afternoon [Jan 18], heading to the inauguration of US President Barack Obama in Washington, DC.
The 16-17 year olds are being accompanied by their teachers Mr. Jason Wade and Ms. Renee Lewis. The students were invited to attend based on their enrollment in the American History course taught at CedarBridge Academy by Mr. Jason Wade.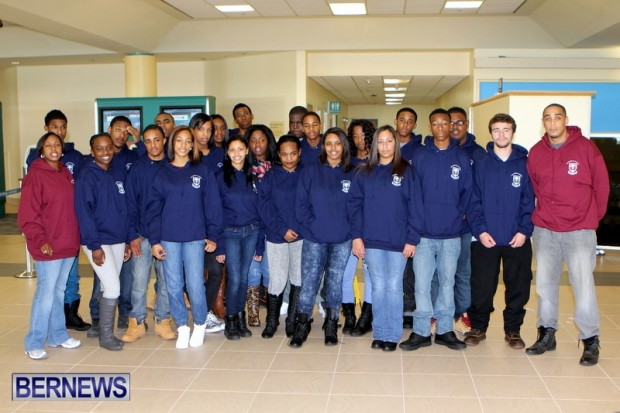 This is the second time that CedarBridge Academy students have attended an inauguration, as ten students attended President Obama's first inauguration in 2009.
CedarBridge Academy deputy principal Mr. Anthony Wade organized the trip and stated that the main objective of the trip is to expose the students to the mechanics of government, elections, power, the constitution, honoring service, politics and law.
Mr Wade said the inauguration of a US president seemed to be the best occasion to experience these sophisticated systems and democracy in action. He said that while Bermuda shares many similarities in terms of the above systems public accessibility to exchanges of power ceremonies is limited and restricted to invitation only events at Government House. He wanted the students to be in the midst of a huge public event and celebration.
In addition to the inauguration ceremony the students will visit the Smithsonian Institute Museum of American History, the Dr. Martin Luther King Memorial, Arlington National Cemetery, Howard University and other places of interest in Washington DC. Mr Wade noted that the parents and Ministry of Education were very supportive of this initiative and that the students are excited and eager to engage in an experience of a lifetime.
President Barack Obama's inauguration will be held in Washington DC on Monday, January 21. As the third Monday in January, this year's inauguration day is also Martin Luther King Jr. Day, a federal holiday in the United States marking Dr. King's birthday.
Read More About