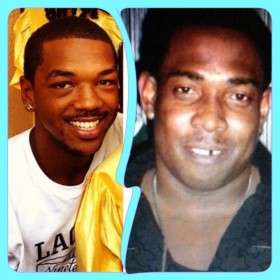 On Saturday evening [Jan 26] there will be a Candlelight Vigil for Haile "Starr Child" Outerbridge and Ricco Furbert at the Belvin's Store on Happy Valley. The Vigil will start at 7pm, and everyone is invited to attend.
The two men were gunned down at Belvin's on Wednesday night, after being chased into the store by a gunman who was traveling with a group on motorcycles.  Mr Outerbridge, 34, and Mr Furbert, 25, sustained mortal wounds after being shot multiple times.
The police released CCTV images showing the shooter, and also confirmed the arrest of a 21-year-old Sandys man in connection with the incident.
Premier Craig Cannonier, Police Commissioner Michael DeSilva, Governor George Fergusson, Minister of Public Safety Michael Dunkley, Shadow Minister of Public Safety Michael Scott, MP Michael Weeks and MP Rolfe Commissiong have all extended their sympathies to the families, and urged people who may know something to come forward.
The double homicide remains under investigation, and anyone with any information regarding the murders is encouraged to contact the Serious Crimes Unit on 247-1739 or the independent and confidential Crime Stoppers Bermuda hotline on 800-8477.
Detectives have stated they are especially interested in speaking with anyone who was in the Curving Avenue, Happy Valley Road Pembroke area between 8:50pm & 9:10pm on Wednesday that may have seen a group of men travelling on 2 – 3 motorcycles.
The Vigil will be hosted by 'Colford's Family Against Violence' and the Curve Community. 'Colford's Family Against Violence' was formed after the murder of Colford Ferguson in 2011. The 29-year-old, who the police confirmed was not a gang member, was working at a construction job in Somerset when he was fatally shot.  His family formed the group after his death, with the motto of "Stop the Silence – End the Violence."
- Photo of Mr Outerbridge and Mr Furbert via Facebook
Read More About