[Updated with full video of event] This evening [Feb 13] a Public Forum on Term Limits is being held at St. Paul's Centennial Hall. The panelists are Minister of Home Affairs Michael Fahy, Shadow Minister of Home Affairs Walter Roban, BIU President Chris Furbert, President of the Bermuda Employers Council Keith Jensen, President of the Chamber of Commerce Ronnie Viera and businessman Michael Ross.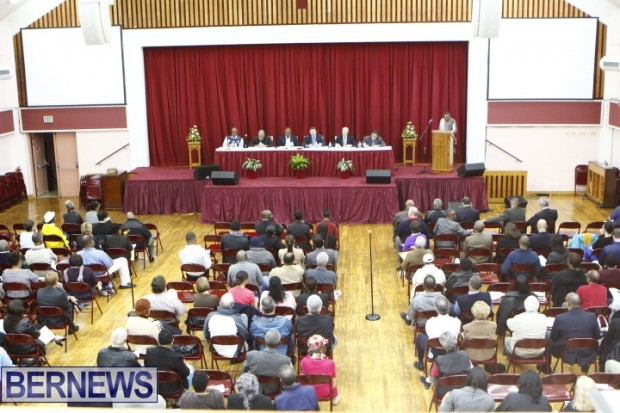 Last month Minister Fahy said Government will eliminate the Term Limit Policy, and the subject has been discussed widely since. You can view our past coverage of the elimination of term limits here.
Update 7.30pm: At this stage – we give up on the stream due to connection issues, and will upload some 'regular' video later.
The forum is quite well attended; by the end of the night all the 300-odd seats were taken and people were standing around the side and back of the room. The Q&A session saw a lively exchange between the audience and the panelists, with audience members offering a wide range of opinions and Minister Fahy often being put on the 'hot seat.'
Update #1: 20 minutes of 'normal video' of the Q&A portion is below
Update #2: 34 minute video showing part two of the Q&A portion is below
Update #3: 27 minute video showing part three of the Q&A portion is below
Update #4: 20 minute video of the beginning of the Town Hall [panelists presentations]
Update #5: 22 minute video of part #2 of the beginning [panelists presentations]
We have removed the 2.5 hour live stream replay as it is of very questionable quality, but if anyone wishes to access it, the replay can be found here.
Read More About