The Bermuda Court of Appeal has dismissed an appeal lodged by convicted murderer Norris Simpson, saying the jury "were entitled to convict and there is no reason to suppose the conviction was unsafe."
Mr Simpson was convicted of the murder of former social worker Ida James, who was found dead in her Paget home in 2011. During the trial, the Court heard she suffered 60 stab wounds, four broken ribs and a blunt force head injury.
File photo of Simpson entering the Supreme Court: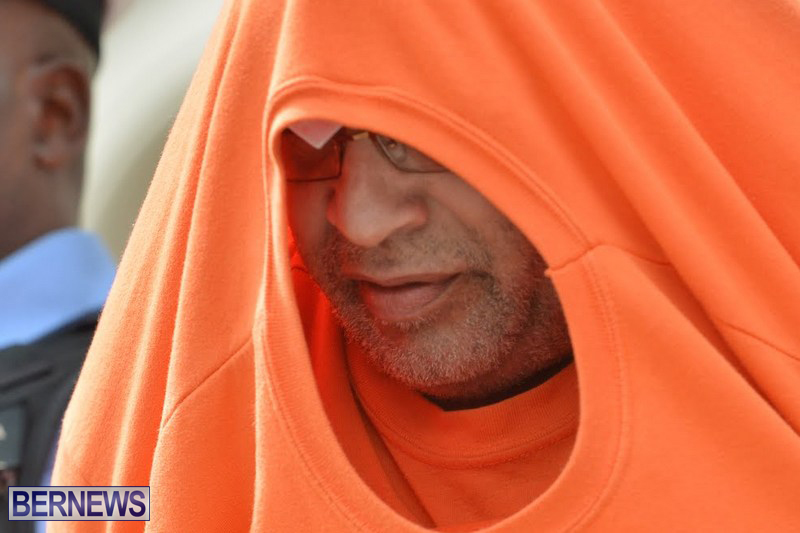 The Court's ruling said, "Early in the morning of 2 September 2011 the body of Ida James was found lying in a pool of blood on the kitchen floor of 32 Berry Road, Paget where she lived. She had been brutally murdered some time during the previous night.
"She was last known to be alive at 6:53 on the previous evening when she spoke to a friend on the telephone. She lived alone and had suffered 60 stab wounds, four broken ribs and a blunt force head injury. There were defensive wounds to both arms. The cause of death was blood loss.
"On 1 February 2013 following a trial before Simmons J and a jury the appellant was convicted by a majority of ten to two of her murder.
"The Crown's case depended on two compelling pieces of circumstantial evidence, adipose tissue from the deceased on his baseball cap and her DNA on his nail clippings. He was unable to provide a credible explanation for either.
"Additionally there was the injury to his little finger and the evidence that he owed the deceased money and was in financial difficulty. The jury heard the appellant's evidence and were well placed to assess the extent to which it was untrue.
"They were entitled to convict and there is no reason to suppose the conviction was unsafe. Accordingly we dismissed the appeal."
The full Court Ruling follows below [PDF here]:

Read More About
Category: All, Court Reports, Crime, News