The Dandy Town Hornets went in front in the 22nd minute in the FA Challenge Cup replay on Sunday [Feb 10] when K'Wonde Lathan scored the first goal of the match against the Flanagan's Onions.
Pete Robey equalized for the Flanagan's Onions with a right footed volley and then gave his team the lead when he found the back of the net in the 63rd minute. Antonio Lowe equalized for the Dandy Town Hornets in the 80th minute and with no further goals the game moved into extra time.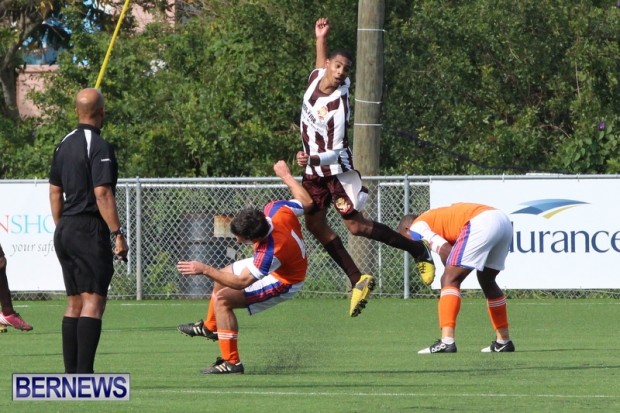 Lathan gave the Dandy Town Hornets the lead in the 101st minute and when Raymond Beach scored in the 115th minute the Dandy Town Hornets held a 4 – 2 lead.
Two minutes later Keston Lewis scored to pull the Flanagan's Onions within a goal but Angelo Simmons restored the Dandy Town Hornets two goal lead when he scored in the 120th minute as they advanced to the FA Challenge Cup Quarter-Final round with the 5-3 victory earned in extra time.
Click to enlarge photos:
Read More About