On February 6th, Saltus Grammar School kicked off a year of celebration to mark its 125th anniversary, and hundreds of the school's students combined to form a massive human spelling of 'Saltus' on the school field.
Saltus was named for merchant and ship owner Samuel Saltus who bequeathed most of his estate to establish a school for boys in Pembroke after his death in 1880. Saltus officially opened its doors to 35 students on February 6, 1888 in the rented hall of Pembroke Sunday School on the corner of Angle and Union Streets—where The Centre youth club stands today.
More than 600 of Saltus Grammar School's students and faculty combine to spell the School's name: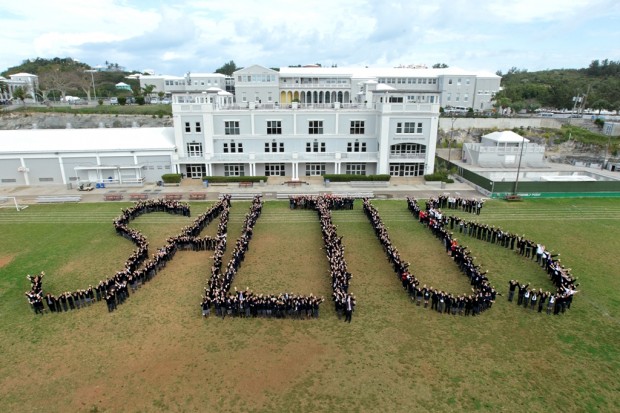 "The Saltus Grammar School community is proud to announce the official start of the school's 125th year on February 6, 2013," said Headmaster Ted Staunton of the quasquicentennial. "As we celebrate this auspicious milestone, we are reminded of the bold educational vision of the School's founder, Samuel Saltus, and the dedication of the many trustees, staff, students, parents and supporters who have made the School what it is today."
Saltus moved to its current main location at the former Woodlands property on St. John's Road in 1893; a preparatory department was opened in Devonshire, acquiring the old Cavendish school 80 years later. Over the years, nine headmasters have seen the School grow to more than 900 students from age four to 18, and alumni have included Olympians, Rhodes Scholars, World War veterans, Premiers, entrepreneurs and business leaders.
Saltus Cavendish School students and faculty form "125″ to mark the 125th anniversary: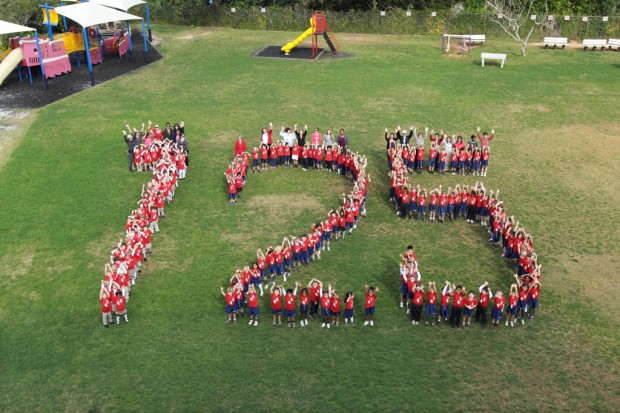 In 1991, Saltus became co-educational, admitting female students—who now make up half of the graduating year. The School's first female Head, Claire Charlemagne, will take the reins starting in September.
Today, Saltus is an accredited member of the Canadian Association of Independent Schools (CAIS). The School offers the Island's only Advanced Placement (AP) curricula through the US College Board for students in its Saltus Graduate Years programme—the vast majority of whom continue their studies at top-rated universities abroad.
Secondary students attended a service at St. John's Church on Wednesday to mark the 125th anniversary, while Lower and Upper Primary Departments held special assemblies.
Immediately following the morning assembly at St. John's, Secondary and Upper Primary students and staff gathered on the School field to spell out "Saltus," while Lower Primary students formed "125" on their field in the afternoon. Other anniversary events will take place later in the year.
- Photos by Charles Anderson
Read More About