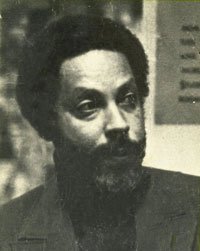 Minister of Community & Cultural Development Wayne Scott and Business Bermuda CEO Cheryl Packwood presided over the launch of two new volumes on slavery on the island at a National Museum ceremony held last week [Feb. 28]
Written by Ms Packwood's father — the late author, historian and librarian Cyril Outerbridge Packwood [pictured] — the official release of "Chained On The Rock: Slavery In Bermuda" and "Edward Fraser: From Slave To Missionary" was held on the last day of Black History Month.
Sponsored by the Department of Community & Cultural Affairs, the event was held in the Bermuda National Museum's Queen's Exhibition Hall.
Bermuda National Museum director Edward Harris has said the new edition of "Chained On The Rock" and the previously unpublished volume on Edward Fraser owed much to the enthusiasm of Bermudian historian Dr. Clarence Maxwell and the volunteer work of Mrs. C.F.E. Hollis Hallett.
Originally published in 1975, the new edition of Mr. Packwood's "Chained On The Rock" — the first full-length account of slavery in Bermuda – includes fresh material and photographs.
"Edward Fraser" recounts the story of the former Barbadian slave who arrived in Bermuda in 1818 and and soon became the leader of a Methodist congregation in Warwick. He spearheaded the building of Cobbs Hill Methodist Church by slaves and free men of colour between 1825 and 1827. The oldest Methodist structure in Bermuda, the road where the church is located is called Moonlight Lane because most of the work was done at night under the light of the moon.

Photos courtesy of Yelena Packwood and Dr. Edward Harris
Read More About