[Updated] Bermuda's athletes have wasted no time in showing their skills at the 2013 Carifta Games being held in the Bahamas, with Sakari Famous claiming Bermuda's first medal during the first few hours of competition this morning [Mar 30].
Sakari finished second in the Under 17 Girls High Jump with a jump of 1.65m. Britny Kerr of Jamaica won gold with a jump of 1.68m, while Shiann Salmon, also of Jamaica, claimed the bronze medal with a jump of 1.60m.
Sakari — who turned 13 last month — was one of the youngest athletes in the division, with most the other island's representatives 15 or 16 years old.  The teenager has cited her cousin, the legendary Clarence Saunders, as her track inspiration.
Update 2.58pm: A photo of Sakari in action this morning in the Bahamas is added below. Speaking after the event, BNAA President Donna Watson said, "She is the youngest athlete on the team, and got us a medal. I am over the moon…"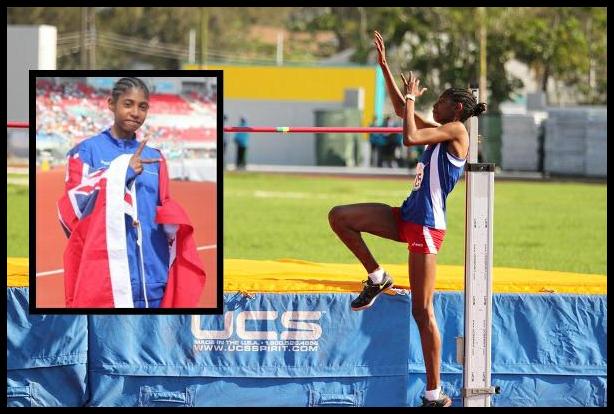 Update 4.53pm: Other Bermuda athletes saw action today, with Quinn Simmons finishing the Under 20 Boys Discus Throw in 9th position with his best attempt of 36.71m.
In the Under 17 Girls Shot Put Tiara Derosa finished 7th with her best toss of 11.83m, in the Under 17 Boys 400m Michaiah Robinson finished 10th overall clocking 49.96, while Antonio Bailey clocked 50.88 finishing 11th.
Rachel Fox advanced to the Under 20 Girls 400m Final after she clocked the 8th fastest time 58.43.
Update Mar 31, 11.11am: Shadow Sports Minister Michael Weeks today extended congratulations to
Carifta Under 17 High Jump Silver Medal winner Sakari Famous.
"On behalf of the people of Bermuda and particularly the community of Friswell's Hill in Constituency #16, We congratulate Ms. Famous on her medal winning performance at the Carifta Games in Bahamas," said Mr Weeks.
"This great news for Ms. Famous, Bermuda and Friswell's Hill. We wish her continued success and encourage her to continue to proudly represent our island."
Read More About