[Updated with video] Kyrah Scraders has claimed her second Carifta medal, racing to victory in the 800m crossing the line in 2:11.62 this evening [Apr 1] to claim the gold medal. This is the second Carifta medal for the 16-year-old, following after her silver medal win in the 1500m.
Kyrah is pictured below on the podium following her first medal win on Saturday: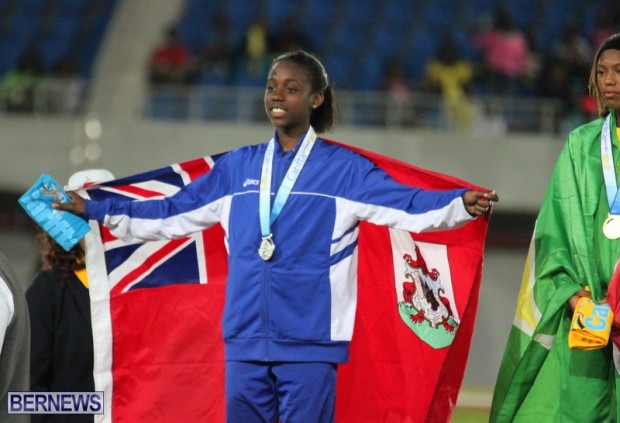 Bermuda had two athletes contesting the 800m, with Quaashie Douglas crossing the line in 10th position in a time of 2:32.08.
This was the fourth track and field Carifta medal win for Bermuda, following after Zakiyyah Showers bronze medal win in the 3000m, after Sakari Famous' silver medal in the high jump, and Kyrah's silver medal in the 1500m.
Bermuda also has three swimming medals, and our athletes continue competing this evening in both the Bahamas [track & field] and Jamaica [swimming]. You can view all our coverage of the Carifta Games here.
Update 9.46pm Kyrah is pictured below crossing the line to claim her gold medal earlier this evening.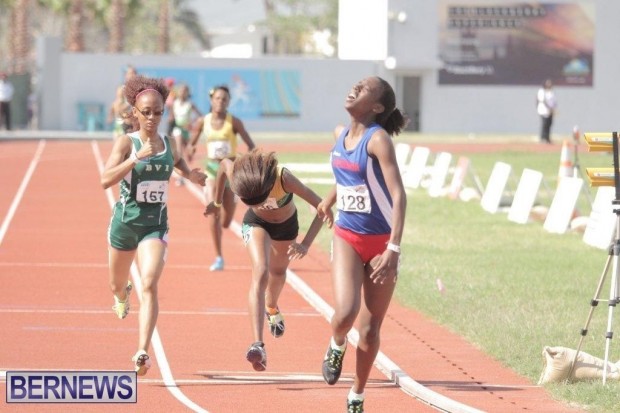 Update Apr 2: Video of Kyrah coming from behind to claim a decisive victory
Read More About