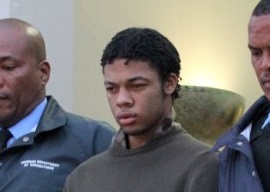 Marico Bassett — who was convicted of a shooting Randy Lightbourne — appeared before the Appeals Court who ruled that the time he must serve before being considered for parole is reduced to ten years.
In December 2011 had been sentenced to 25 years in prison, with the Court ordering he must serve half the sentence before being considered for parole.
Mr. Bassett gunned down Randy Lightbourne, then 44, outside the Charing Cross Tavern in Sandys on July 23, 2010.
At his first Supreme Court trial in March 2011, Mr. Bassett was found guilty on a charge of unlawfully possessing ammunition, however the jury was unable to reach a verdict on the attempted murder charge. A retrial was ordered which saw Mr. Bassett convicted of attempted murder.
Victim Randy Lightbourne testified at both trials saying he recognised Mr. Bassett when he rode a motorcycle into the parking lot of Charing Cross Tavern at approximately 5pm that afternoon and began shooting at him.
Mr. Lightbourne was shot seven times and spent months recovering from multiple gunshot wounds. Mr. Bassett was taken into custody soon after the shooting and charged with attempted murder.
During the trial, the Prosecution argued that Mr. Bassett shot Mr Lightbourne to "move up the ranks" of the West End MOB gang.
- File photo
Related Posts
Category: All, Court Reports, Crime, News