The Women in Sports Expo Banquet took place last night [Apr 26] at the Fairmont Hamilton Princess, with those in attendance including international elite athletes and many of Bermuda's own top female athletes spanning a range of sports.
The Banquet is part of a weekend of activities for the 'Women in Sports' event, which is designed to promote the achievements of females in sports and health in general.
4-time Olympic gold medal winner Lisa Leslie — the first female to dunk in a professional basketball game — was the guest speaker, while Debbie Jones-Hunter was the MC for the evening.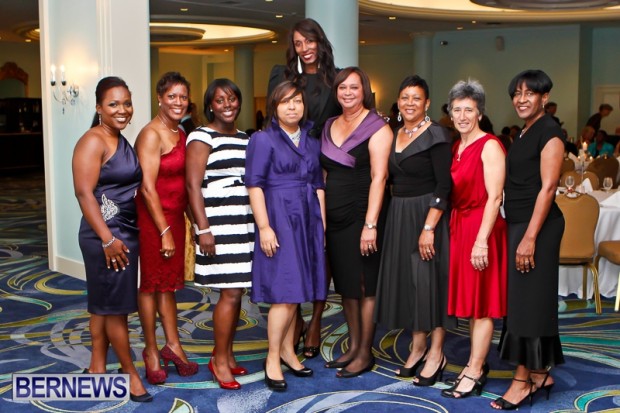 Tourism Minister Shawn Crockwell, Health Minister Pat Gordon-Pamplin, Minister Leah Scott, Hamilton Mayor Graeme Outerbridge, Deputy Hamilton Mayor Donal Smith, Shadow Minister of Sports Michael Weeks, and MP Jeff Sousa were among those in attendance to show their support.
Bermuda National Athletic Association President Donna Watson and Bermuda Olympic Association President Judy Simons said they were pleased at how the evening went, and are looking forward today's Expo.
Today's Expo will take place from 12pm to 6pm at the Fairmont Hamilton Princess, and will feature Zumba, gymnastics, Jump 2b Fit and salsa demonstrations, as well as a sports fashion show. The Expo will also have booths related to sports organisations, health and nutrition. Tickets are $20 for adults and $10 for those under 18 years.
International elite athletes and female Bermudian Olympians from various sports will be in attendanceat the Expo to speak about their experiences in sports including Paula Lewin [Bermuda sailing Olympian], Arantxa King [Bermuda long jump Olympian], Anjali Forber Pratt [American Paralympian], Jessica Lewis [Bermuda Paralympian], Pauline Davis Thompson [Bahamas track Olympic gold medallist], Chrissie Wellington [English Ironman Triathlon World Champion], Jenaya Wade-Fray [Bermudian basketball Olympian], Branwen Smith-King [Assistant Director of Athletics at Tufts University], and Teresa Perrozi [Bermudian middleweight world boxing champion],
Click photos to enlarge: