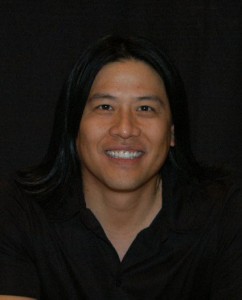 American actor Garrett Wang — who grew up in Bermuda — will be reprising his signature role as Harry Kim when a group of "Star Trek" fans boldly go where no Trekkies have gone before and create a pilot for a new series based on the long-running science fiction franchise.
Mr. Wang [pictured], was born in California to Chinese immigrant parents but came to Bermuda as a child and attended school here from the ages of five to nine.
A long-time science fiction fan, Mr. Wang once told an interviewer his initial introduction to the genre came when he went "to the movie theatre to watch 'Star Wars' as an eight-year-old living in Bermuda. I watched reruns of the original 'Star Trek' later, but was never a big fan because of the decade old special effects. I went to all the theatrical releases of the 'Trek' films though."
His family later moved to Tennessee and Mr. Wang, 44, broke into acting in the early 1990s while he was attending the University of California in Los Angeles.
He played operations officer Harry Kim in the TV series "Star Trek: Voyager" which ran from 1995-2001, the fourth of five spin-offs of the original show which premiered on NBC in 1966.
There have also been 12 feature films based on the mythology created by producer Gene Rodenberry including the forthcoming "Star Trek: Into Darkness."
Opening credits sequence for "Star Trek: Voyager" TV show
"Star Trek: Renegades" is a fan-driven project to create a pilot for a new "Star Trek" TV or on-line series. Aside from Mr. Wang several former "Star Trek" actors will appear in the pilot episode including Walter Koenig ["Star Trek: The Original Series"], J. G. Hertzler ["Star Trek: Deep Space Nine"] and Mr. Wang's "Star Trek: Voyager" co-star Tim Russ, who is also directing the pilot.
Funding was successfully sought for production during 2012 through the crowd-sourcing Kickstarter website.
The team behind "Renegades" requested $200,000 in funds for the project but beat that goal by $42,000.
"Star Trek: Renegades" is now being shot at Laurel Canyon Studios in Los Angeles.
Mr. Wang, who was named one of "People" magazine's 50 most beautiful people in the world in 1997, has appeared in many other TV shows and movies since "Star: Trek Voyager" went off the air but told "Esquire" magazine in 2007 that he intended to pursue other projects outside of acting.
Interview with Garrett Wang, who spent his early years in Bermuda


Read More About
Category: All, Entertainment