[Updated with photos + video] Due to the strong winds this morning [Apr 7], a large tree fell and affected power lines in the Middle Road in Warwick area  [by Lindos], which resulted in power outages.
The fallen tree blocked most of the road, and crews are in the area working to remove the tree and restore power. Three BELCO trucks and two W&E trucks are on scene, and it is estimated the road will remain closed for approximately four hours while repairs are made.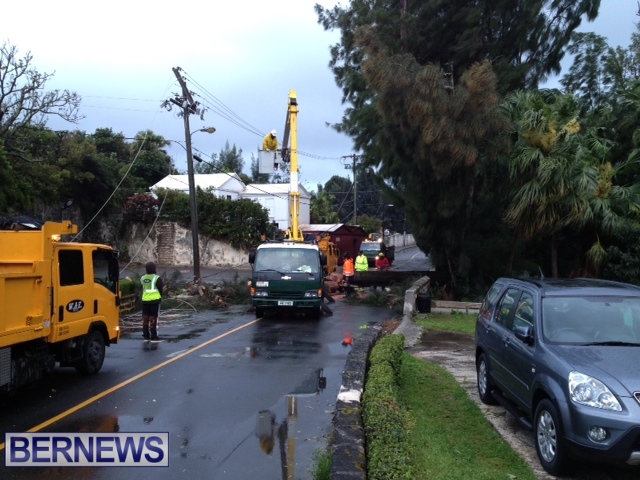 The Bermuda Weather Service issued a Gale Warning valid for this morning, saying that a low center to the near northeast will bring gales and showers throughout the morning, which will begin to decrease this afternoon as the low moves away
Police spokesperson Dwayne Caines said, "As a result of the strong winds, a tree fell and landed on power-lines in the area of Middle Road in Warwick [by Lindos]. This resulted in major power outages in the area.
"Works & Engineering and BELCO have two work crews on scene to repair the lines, and to remove the large tree that is blocking the entire road. This is expected to cause a 4hr delay to vehicular traffic," continued Mr Caines.
The statement was issued at approximately 7am, meaning the estimation is that the road will remain closed off until around 11am today.
An area resident told Bernews the tree came down early this morning, and creating a very loud noise waking her out of her sleep. She said at first she had no idea what the noise was, and it "half scared her."
Update 9.39am: BELCO confirmed that about 360 customers were affected.
Update 10.09am: BELCO said that most customers have had power restored, however 92 are still out as the workers have to cut down a second tree at the request of W&E and to work safely the lines have to be de-energized.
Update 10.48am: BELCO said the high winds contributed to power outages across the island in which approximately 875 customers were affected.
Starting at approximately 3:45am, there were outages in Warwick, Paget and Tuckers Town, as well as several smaller outages scattered across the island. Most customers have been restored at this time, however approximately 140 customers remain without power. The full statement is here.
Read More About
Category: Accidents/Fires, All, News, News, Photos