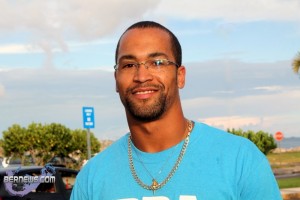 Bermudian Olympic swimmer Roy-Allan Burch has picked up a sponsorship from FINIS, the company has announced.
Burch, a two-time Olympian, currently lives and trains in North Carolina and was a member of both the 2008 and 2012 Olympic Teams.
FINIS said, "Burch currently holds eight National records for his country including the 50m Freestyle, 100m Freestyle, 50m Butterfly, and the 50m Backstroke.
"He has represented Bermuda at the FINA World Championships since 2007 and has reached the final heats of prominent International competitions, such as the Commonwealth Games and the Pan-American Games.
"Burch earned his MA in Business Management from Springfield College (Mass.) in 2008 and was a standout performer during his time representing the Pride.
"Burch is poised to make another run at the 2016 Olympic Games in Rio de Janeiro, where he will race for the chance to be the fastest man in the water."
John Mix, President and CEO of FINIS, commented on the new athlete sponsorship. "We are very excited to have Roy-Allan as one of our FINIS athletes. We are a small company that wants to make a big splash in the world, and Roy-Allan has the same mindset. We look forward to sharing in his future success."
Founded in 1993 in Northern California, FINIS was started by John Mix and Olympic Gold Medal Swimmer Pablo Morales. The Monofin and the Swimmer's Snorkel were the first products they developed for the US market; afterwards, they continued to focus on creating training tools for swimmers and coaches worldwide.
FINIS products are currently available in over 65 countries and are used by US and International Olympic teams, elite triathletes, and fitness swimmers.
Read More About