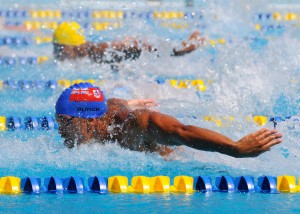 Bermuda's Roy Allan Burch won his 100m freestyle heat this morning [July 31] at the FINA World Championships in Spain, with his time of 50.66 setting a new Bermuda record.
Burch competed in Heat 4 of 9 during the Men's 100m Freestyle where he touched the wall first in a time of 50.66. He finished with the 39th fastest qualifying time, and broke the Men's Bermuda 100m Freestyle Record of 51.01 he set two years ago during the 2011 FINA World Championships in China.
Speaking after the race, Burch said: "I felt really good going into the race. I knew I would swim my best so it was just a matter of how much better. I haven't been able to prepare for the race as much as I would have liked so being better always makes me happy.
"My main focus has been toward the 50 on Friday. I feel very confident about my 50 freestyle and I will be fighting for a spot in the finals. This is the biggest competition in the World for swimming outside of the Olympics so I would like to make my mark early in the quadrennial.
"The competition and environment has been great for me and I hope that I have done my country proud. I work hard everyday to be better each year and it has shown. I will continue to work hard and push the standard for Bermuda swimming and Bermuda athletes alike."
Read More About