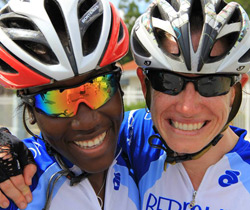 [Updated] Zoenique Williams and Nicole Mitchell captured two medals for Bermuda at the Caribbean Cycling Championships in Curacao this morning [Oct 20], claiming a silver and a bronze.
Zoenique Williams won silver in the women's road race, while Nicole Mitchell won the sprint for third place. The defending champion from last year, Tamiko Butler of Antigua, took the gold.
110 cyclists from 20 countries and territories are taking part in the Championships.
Update #1: Make that three medals, with Nicole Mitchell claiming a second bronze.
In winning the first two medals, Williams clocked a time of 1:49:31.131, while Mitchell crossed the line in a time of 1:51:14.373.
Mitchell captured her second medal of the Championships after she finished third picking up the Bronze Medal nt the Female Individual Time Trial that covered 16.7K
Update #2: Minister of Community, Culture and Sports Wayne Scott said, "On behalf of the Government of Bermuda, I am happy to extend our congratulations to Nicole and Zoenique for their exceptional performances at the Caribbean Cycling Championship. We applaud their success; they have made Bermuda very proud."
Read More About