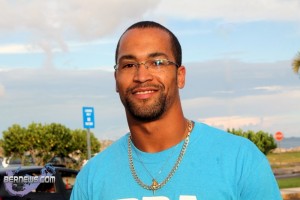 [Updated] Bermuda's Roy Allan Burch has claimed a silver medal in Italy, shattering the Bermuda record twice and defeating a 4-time Olympic medalist on his way to the medal podium.
Burch was competing in the 40th International Nico Sapio Trophy in Italy in the men's 100m freestyle.
The two-time Olympian first broke the Bermuda National Record during the preliminaries, and then lowered his own record yet again in the finals, setting a new Bermuda National time of 49.29 and capturing the silver medal.
Burch previously held the record of 50.66, a time he set when winning his heat at the World Championships in Spain earlier this year. That time had broken the record time of 51.01 he himself set back in 2011, during the World Championships in China.
Italian Lorenzo Benatti won the gold medal in a time of 49.04, while 4-time Olympic medalist Cullen Jones from the USA and Mattia Schirru of Italy tied for third place in a time of 49.41.
Some international reports have credited Burch's medal winning performance to the United States, however the official results [PDF] correctly note he was representing Bermuda in Italy.
Update: Speaking after the race, Burch said: "I was pleased with my morning swim. I had a few things to clean up in the race which was going to allow me to drop more time.
"My coach, David Marsh, gave me great feedback about a few changes to make in order to be faster at night. When I came back at night for warm up I reinforced the changes he had made and focused on applying them to my race."
"I had a good idea of where I was in the race. I could already see that I was above the two guys to my outside and the guy directly on my inside. I got to the last lap and gritted my teeth and told myself repeatedly to put my head down and get to the wall.
"I felt like I had the win but was just touched out by Lorenzo Benatti of Italy. This was a huge racing breakthrough for me. Many times I over think when I race but this race allowed me to get back to my pure racing instincts and just go for it.
"I was pleased with how it went and it showed me that my training is going well. There is plenty more work to be done but I'm pleased to be moving in the right direction when I'm so broken down."
Read More About