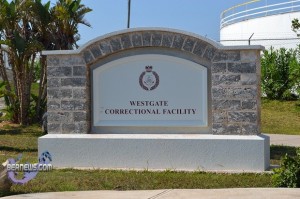 A teenager and a 62 year old man were remanded into custody after appearing in Magistrates Court this morning [Nov 21] on charges of unlawfully entering Westgate Correctional Facility.
Tyler Christopher [17] and Chesterfield Johnson [62] will spend the next week behind bars after initially pleading guilty, but having their guilty pleas rejected by Senior Magistrate Archie Warner.
In today's session, after they pleaded guilty to trespassing inside Westgate around 11am on 19th November the pair offered a defense.
They said that in a 16 foot boat that they had driven from Riddell's Bay, they had gone to the beach on the west side of Westgate and that Christopher had gone ashore in order to get some sand off the beach.
The men's story was that the sand was to be used in making 'chum' for the fishing trip that they were supposed to be on that day.
Christopher denied the Crown's assertion that he had gone ten feet inside the Westgate razor wire and was clearly within Westgate's perimeter.
Johnson admitted being the boat driver but said that he did not know that the area chosen for collecting the sand was out of bounds. Both said that they saw no razor wire.
According to the Crown Prosecutor, the boat had been observed approaching the area; prison staff with a K-9 unit had responded; Christopher was seen to run off and re-board the boat which had then proceeded towards Grey's Bridge.
The boat was kept under observation and Marine Police eventually caught the boat and the men off Morgan's Point.
The Senior Magistrate remanded the teenager to the COED facility and Johnson to Westgate. The pair will be brought back to face a full trial on 26th November 2013.
Read More About
Category: All, Court Reports, Crime, News