In honour of the late Nelson Mandela, a Condolence book is available for signing at the Cabinet Office and this morning [Dec 9] both Premier Craig Cannonier and Deputy Opposition Leader Derrick Burgess wrote messages of tribute to Mr. Mandela.
Members of the public who wish to pay their respects by signing the book can visit the Cabinet Office today through Friday [Dec 13] between 10am and 4.30pm.
Premier Craig Cannonier signs the Condolence book: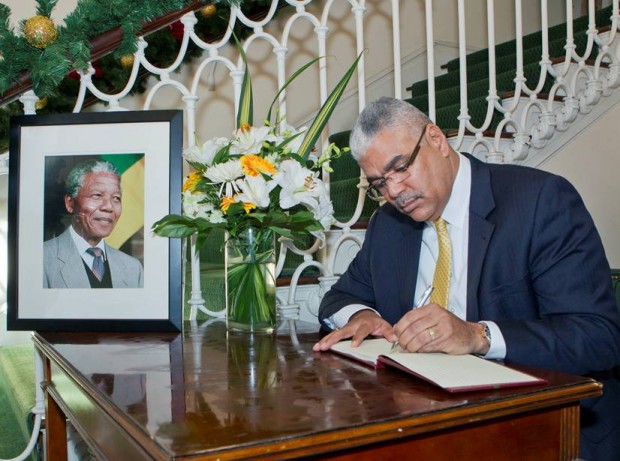 With more than 70 heads of state confirmed to arrive in South Africa this week to attend the memorial service, the former President's funeral is expected to be one of the biggest gathering of heads of state in history.
The dignitaries will include US President Barack Obama, along with former American presidents Bill Clinton, George W. Bush and Jimmy Carter. British Prime Minister David Cameron will also attend, as will former Prime Ministers Sir John Major, Tony Blair and Gordon Brown.
Other attendees include Cuban President Raul Castro, French President Francois Hollande, and UN Secretary General Ban Ki-moon, while talk show queen Oprah Winfrey, singer Bono, and supermodel Naomi Campbell are expected to be among the celebrity mourners.
Deputy Opposition Leader Derrick Burgess signs the Condolence book: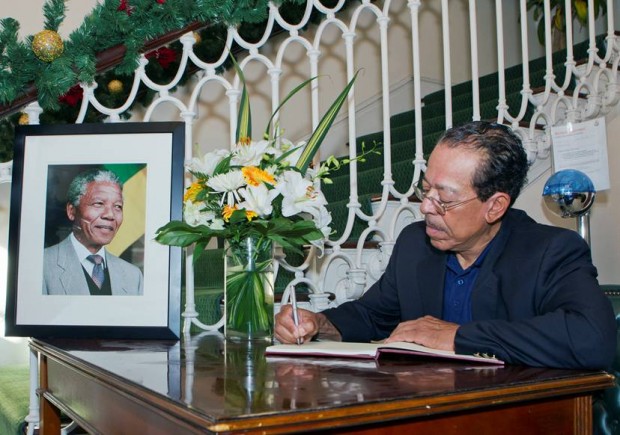 The 95,000-seat stadium in Soweto, the township that was at the heart of the anti-apartheid struggle, will host the main memorial ceremony for Mr Mandela, who died on Thursday aged 95. It was also the site of the anti-apartheid hero's last public appearance at the 2010 Football World Cup.
Revered around the world for leading the fight against white minority rule in South Africa, Mr. Mandela suffered through 27 years of imprisonment before going on to become the first President elected under all race elections, a Nobel Peace Prize Winner and a world renowned humanitarian.
Read More About