Tributes were paid to the late Nelson Mandela earlier today [Dec 14] at a service held at the Cathedral of the Most Holy Trinity in Hamilton.
Governor George Fergusson, Deputt Premier Michael Dunkley and Rev. Musa Daba, a South African resident of Bermuda, all addressed those gathered.
Minister Dunkley said, "In the days since the passing of Nelson Mandela powerful men and women have joined with everyday citizens to lend their voices to the chorus of respect and admiration for the life, work and example of a truly great man.
"The life of Nelson Mandela is a paradox in that when we examine it closely we are confronted with how difficult it can be to stay true to our ideals and core values. His life's journey demonstrates to us that even right and wrong can be subject to trends and the popular culture of the time.
Photo from the vigil held on Friday night in front of the Mandela Mural at Chewstick: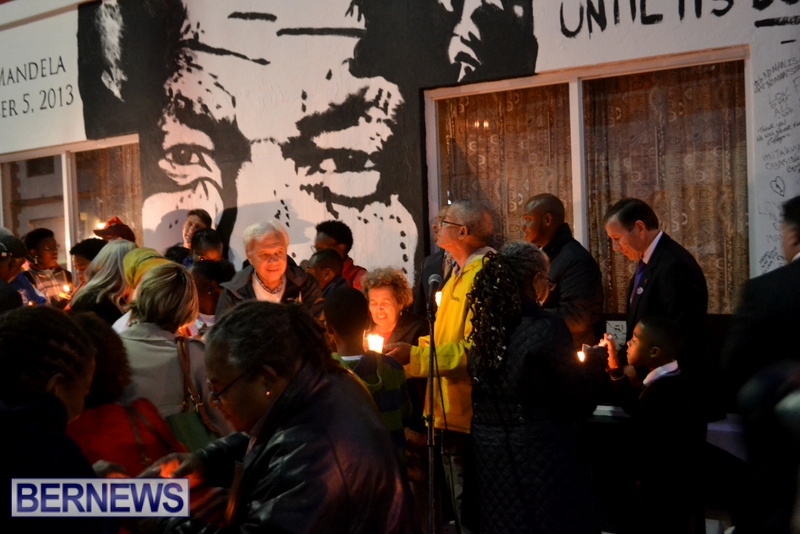 Minister Dunkley continued, "However, in spite of being labeled a terrorist and a criminal for his beliefs, Nelson Mandela never wavered in the pursuit of justice and equality.
'This is the true measure of the man and the cause to which he dedicated his life. One commentator elegantly said that "Mandela gave us a master class in living for truth and justice..".
"Nelson Mandela's one term as President of South Africa did not fix all of that country's problems. Many of the issues he confronted during his time in office remain unresolved today. That is not a criticism because a man of his stature was not elected to act like any ordinary politician.
"Mandela's presidency was the only possible bridge between the oppression of apartheid and the new South Africa. Only a man with his extraordinary capacity to forgive and with his strength of character could confidently speak peace and unity setting his country on its path to true nationhood.
"The beauty of Mandela's life story is that it makes it clear that our heroes do not need to be saints. His life reminds us that even great men have flaws and make mistakes. The Mandela of the last week is only one facet of the man.
Footage of Nelson Mandela being released from prison in 1990 after 27 years:
"From a cell on Robben Island and separation from his family to the presidential compound in Pretoria and the world stage; Nelson Mandela never changed. We changed in our perception of him. His refusal to abandon core principles of freedom, justice and equality demanded that we embrace his vision as our own because it was the right thing to do.
"As we remember him in this celebration we will mark our lives in this generation by what we remember of his imprisonment, release and then his death.
"All of us have been impacted by this man who lived a world away but caused even the people of Bermuda to join his cause and to digest his ideals in the spirit of true brotherhood, united in the fight for justice and the equality of all peoples," concluded Minister Dunkley.
Read More About