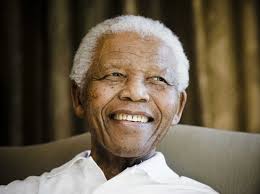 [Updated] Following the death of former political prisoner and South African President Nelson Mandela, South Africans living in Bermuda are reflecting on a man who was so important to their homeland.
Mr Mandela — whose story of spending 27 years of being a prisoner and ascending to the Presidency is well known — will lie in state for several days, before he will be laid to rest.
Mr Mandela fought against the racist apartheid policies, and in 1964 he was sentenced to life imprisonment. He spent 27 years behind bars before finally walking free in 1990.
In 1994, he was sworn in as the president of South Africa. He served one term, and after leaving office continued to be a voice on the world stage for developing nations, human rights and the fight against AIDS.
He slowly faded out of the public eye as he aged, but remained an iconic figure. He died this evening [Dec 5] at age 95, and there is little doubt his legacy will live on.
Nelson Mandela set an example for all South Africans and they do not weep for the loss but in celebration of his life, said Tricia Walters – a South African who now lives in Bermuda.
Ms Walters said, "Having worked as a journalist in South Africa I had the pleasure to see and hear Mr. Mandela speak at various venues.
"He was incredibly intelligent, articulate, compassionate and strong. He was loved by everyone, black and white, and set an example for all South Africans.
"It was sad to watch him grow old over the years and lose the strength that he exuded from that day in February 1990 when he was released from prison.
"Even though his body grew frail, his spirit remained strong to the end. South Africans are not weeping for the loss of this great man, but weeping in celebration of his life.
"Mandela was famous for his quotes, but one that has stuck in my mind the most is this one from 1994:
No one is born hating another person because of the color of his skin or his background or his religion. People must learn to hate, and if they can learn to hate, they can be taught to love, for love comes more naturally to the human heart than its opposite.
"I think everyone can learn from that," said Ms Walters
The South African is flying at half mast in Devonshire [pictured below] by Dr Milan Oleksak, a South African resident of Bermuda who works as a orthopedic surgeon.
Dr Olesak said upon hearing the news of Mr Mandela's passing he felt "like my endocardium has been ripped from my chest."
"As a nation we were most blessed to have had such an amazing individual as our leader. Other nations got people like Milosevic and others," said Dr Olesak.
"He lives on in our constitution, the TRC and the spirit left behind in the people of our still fragmented Rainbow Nation. I am flying the flag at half mast off Devonshire Dock…"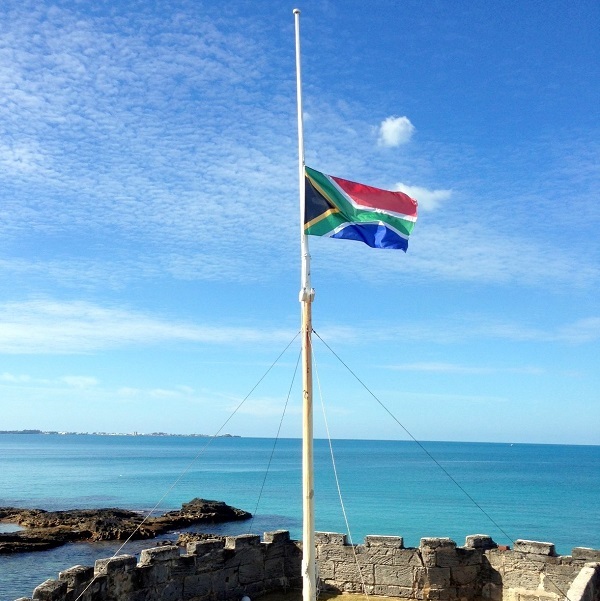 South African Revd Musa Daba, the Rector of Smiths Parish, commented, "It's a bittersweet time; the news comes to us as a shock.
"I join the world in expressing our deepest condolences to the Family of Madiba and we pray God's peace in their lives as they mourn the death of their father, grandfather and Great-grand father. We thank this family for allowing us proud South Africans to call him our father. Today our nation and the world mourns with you.
"To my fellow South Africans: let us together praise God for the gift that Nelson Mandela was to our Nation. We know what our South Africa would have been were it not for the wisdom and boldness of this hero.
"This is not just a time for black South Africans to mourn but all South Africa to feel the deep sadness of Mandela's death."
Read More About