Digicel launched a new promotion today [Jan 23] by advising customers to "kiss their Internet bills goodbye" and receive 12 months of free Digicel Internet for their homes.
A statement from the Company said, "Any new or existing Digicel Postpaid customer who signs up for a new mobile voice and/or data plan, or extends their existing mobile agreement, can choose to get six Mbps [megabits per second] of Digicel Internet service at home at no cost for the first 12 months of service.
"And, as if that's not enough, any customer looking to achieve higher internet speeds has the option to receive a $50 discount per month for one year instead. This offer will ultimately save customers $600 over the course of a year."
"As Bermuda's leading mobile provider and industry game changer, Digicel is always looking to provide customers with the best value," said Wayne Caines, CEO of Digicel Bermuda. "This offer was designed to entice residents to make the switch to Digicel and save considerably in the process.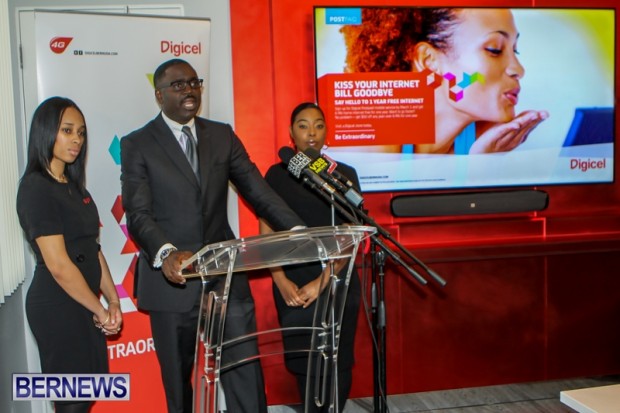 "From the start, Digicel has always been a leader in bringing exceptional value to the Bermuda market. Receiving an entire year of free home internet is unheard of; an offer of this magnitude does not come along every day."
"Digicel's mobile and fixed line internet services offer a selection of plans for home and office needs. And, contrary to popular belief, switching is a quick and easy process where, in most cases, new hardware is not required, enabling customers to enjoy same-day connectivity," the company said.
"Value, reliability, and customer satisfaction are our priorities," added Digicel's Sales Director, Shane McDonnell. "Our sales team is readily available to assist those wishing to take advantage of this opportunity to receive significant savings and to ensure that the process is as seamless as possible."
Customers will have until March 1, 2014 to benefit from the huge savings on their home internet needs and are reminded that a valid ID and proof of address are required to open a Digicel Postpaid and Digicel Internet account.
Read More About
Category: All, Business, News, technology