The Bermuda Tapes App, depicting John Lennon's last Bermudian adventure and created for Yoko Ono by director Michael Epstein and Bermudian producer Andrew Banks, has been nominated for two awards at the upcoming South By Southwest Music Festival [SXSW], including in the lofty category of "Best Music App."
The app is also eligible for the festival's People's Choice Award, which is open to online voting from people around the world.
The app allows for an interactive view of John Lennon's famous 1980 sailing trip to Bermuda and is currently available for download for the Apple iPad, iPhone, and iPod Touch, giving fans the ability to learn more than ever before about Lennon's life-changing Bermudian experience.
Lennon's journey to Bermuda during a storm in June of 1980 has made for a legendary story in musical circles over the years, not least of all because it lead to the so-called "Bermuda Tapes," a collection of demos recorded on the island as he collaborated remotely with his wife Yoko Ono, who remained at their home in New York.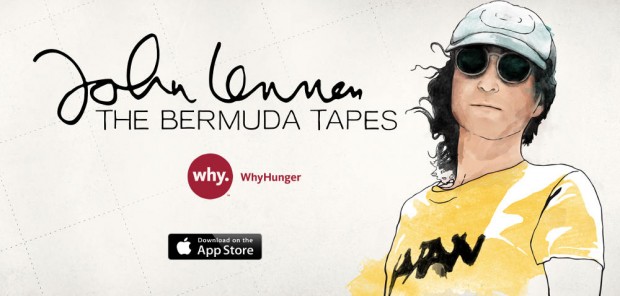 Months before John Lennon's life tragically ended, he spent the summer of 1980 living and working in Bermuda.
One Bermudian locale in particular that had a profound effect on Lennon was the Botanical Gardens, which he visited several times. While exploring the gardens, the former Beatle came across a species of freesia called "Double Fantasy," and took the name for his album.
The idea of one living thing incorporating the ideas of two minds struck him as symbolising his relationship with his wife, Yoko Ono. Subsequently, Double Fantasy became the name of the album that he recorded upon his return to New York from Bermuda.
All of those adventures, along with the songs that they inspired, are available via the app, which tells the story of Lennon's travels and songwriting, along with the recording sessions with his wife that later blossomed into the album Double Fantasy.
Demonstration of the Bermuda Tapes App's capabilities:
All proceeds from sales of the app have been donated to the Why Hunger campaign, helping to educate those in need in the ways of agriculture, an initiative that has already provided enough food for 7.2 million meals for needy children in more than 20 countries around the world.
John Lennon: The Bermuda Tapes, an app for iPhone and iPad, can be downloaded here.
Read More About
Category: All, Entertainment, Music, technology