Yesterday [Feb 26] was the beginning of Purvis Primary School's 13th Annual Science Fair. The science fair projects are based on the Cambridge science curriculum, and highlight the students' scientific knowledge and inquiry skills.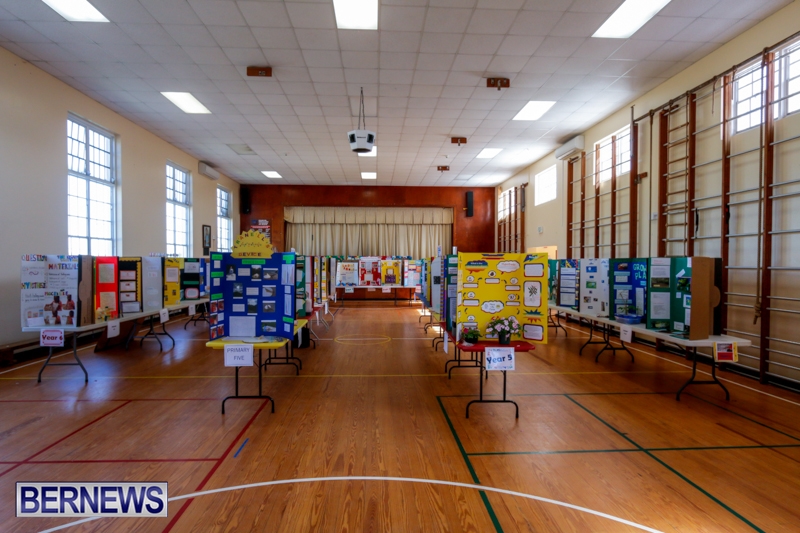 Every student from Primary 1 to Primary 6 presents their experiment to a panel of judges and answers their questions. The science fair challenges the students to solve questions using the scientific method, think like scientists, develop their organizational skills, enhance their writing skills, and oral-presentation skills.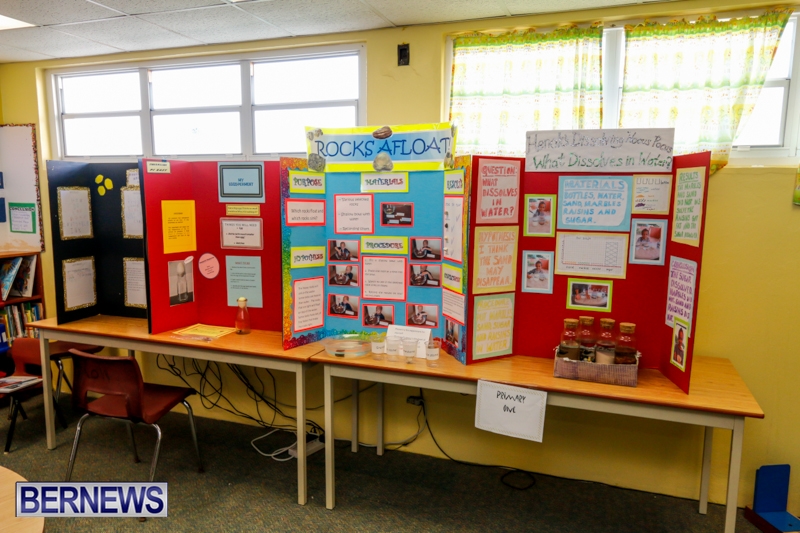 This year 49 students achieved blue ribbon status [90% – 100%] for their projects. The following five students scored 100% – Harmony Seymour, Alay Burgess-Rocker, Azra Shakir, Lucas Lightbourne and Zadok Simons.
Following are the first to third place winners.
Blue Ribbons – 90% – 100%
Azaria Atwell, Dailany Steede, Elias Reece, Gianna Pedro, Harmony Seymour, Henok Simons, Jaya Postlethwaite, Amaya Husband, Alay Burgess-Rocker, Azariah Stowe, Nahla Woods, Yuri Jones, Zadok Simons, Quinton Husband, Connor Smyth, Isma'il Ali, Jonaiya Ingemann, Khari Simons, Malaysia Johnson, Varshini Srinivasan, Dakari Zuill-Smith, Sanaya Piper-Ratteray, Zaniea Parson-Simmons, Arcedis Rawlins, Azra Shakir, Dailyn Steede, Jazarah Codrington-Edmead, Joao Desa, Lucas Lightbourne, Sachin Derosa, Fasika Simons, Alaiah Cooper-Trott, A'Mali Brangman, Troy Wade, Antonio Wade, Moses Johnston, Seine Young, Taj King, Ashaundre Talbot-Perinchief, Dakahri Bailey, Eijaz Shakir, Wolde Cooper-Trott, Ashley-Morgan Attride-Stirling, Emily Cabral, Meron Simons, Nemari Matias, Skye Minors, Jose Dillas, & Nakeah Simons.
Red Ribbon – 80%-89%
Camari Outerbridge, Ciaran Smyth, Nyasia Smith, Xymeir Williams, Harlem Bean-Fox, Kevany Brown, DaMarli Pedro-Minors, Deangelo Steede, Jena Caines, Juliana Vieira, Ny'Kie DaCosta-Zuill, Raevyn Waldrof, Xavien James, Aaliyah Muhammad, Cavon Taylor, Deja Steede, Josef Ferreira, Ny'Ashia Ferguson-Wilson, Pierre Zuill, Sariyanna Topey, Dachay Paynter-Wade, Jah-zhari Burgess, Sarai Virgil, Adrian Bell, Ella Tear, Malikah Tankard, Shori Lindsay-Trott, Tamara Arruda, Tiko Caines, Jayden Correia, Kaori Trott, Tranell Nisbett, Isaiah McCaskie, Alera Dore, Zyjae Trott-Philip, & Kaela Riley.
Yellow Ribbon – 70%-79%
Ariyah Card-Rogers, Latesha Dill, DaMarley Francis, Justin Hassell Jr., Arianna Packwood-Darrell, Deyori White, Ni'Asia Pitcher, Ravidu Lokubiahithage, Camille Mills, Nae'zori Weeks, Odelle Brown, Zha-Lei Looby, Shavon Taylor, Zaira Smith, Zakari Boodram, D'wzjhane Smith, Nori Jones, Chayse Tanner, Iyhundae Wright, Miquan O'Brien-Darrell, Che'Chulae Dowling, Connor Clapp, Matthew Jessey, Izayah Arruda-Stevens, Nikai Dyer, & Jhayla Outerbridge.
Click to enlarge photos:
Read More About