MoonGate Insurance, an insurance agency, has teamed up with seniors' advocacy group Age Concern to develop a special health affinity program for Age Concern's membership.
According to MoonGate's President and CEO, Leon Bascome, "The HealthGap-AC product is a collation of international and local service providers who are offering special services and discounts to members of the program.
"Originally, the product was fairly narrow in scope; however, after receiving feedback from Claudette Fleming and her team, we were able to modify and broaden it to now offer very exciting features that enable anyone to supplement their health insurance policy."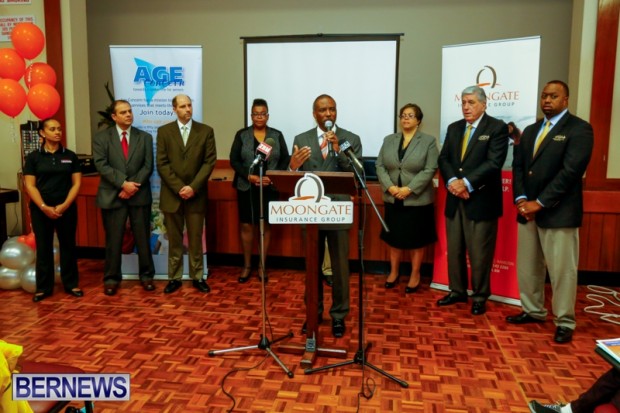 "We also have visionary partners in Collin Anderson and the Health Insurance Department and they, too, helped to mold the product into what it is today," added Mr. Bascome.
"Our collective mandate is that all residents, especially seniors, can receive affordable health insurance in Bermuda. By offering HealthGap-AC, we can expand healthcare services but keep the costs low. MoonGate is very excited to offer this product and we look forward to working with existing and potential members of AGE Concern."
"The new HealthGap-AC product offered exclusively to Age Concern and/or persons eligible to join Age Concern offers access to a number of local and international products and services."
HealthGap-AC Local Vendors
"Local vendors offer discounts ranging from 10 to 50 percent and include Dr. Kyjuan Brown of North Shore Medical & Aesthetics Center; P.D. Gilfeather of Bermuda Optical, Caesar's Pharmacy; Glenn Robinson of Ashlan Clinic; Medical House and MediPendant. Services are also offered by MoonGate, Equitable Life, and Fortress Accounts Receivable Management.
"MoonGate continues to speak to local vendors, who will be announced in the second series."
HealthGap-AC International Vendors
"Medical Air Services Association [MASA] is an international organization that is dedicated to providing more than 1,000,000 members with life-saving emergency assistance services while they are at home, on the job, or traveling around the world. Founded in 1974, they have protected members from significant financial loss when needing emergency assistance services for illnesses and injury.
"This isn't just any ordinary air ambulance. HealthGap-AC members receive extensive benefits including Emergency Air Transportation & Medical Evacuation, Helicopter Transportation, Ground Ambulance Transportation, Commercial Air Transportation, Repatriation / Recuperation, Return Transportation, Non-Injury [Friend or Family Member] Transport, Escort Transportation, Minor Children / Grandchildren Return, Vehicle Return, Mortal Remains Transport, Organ Retrieval, Organ Recipient Transport, Travel Expense, and Worldwide Coverage.
"Best Doctors Medical Expert Service serves 30 million members in 70 countries. This is a peer-selected network of more than 53,000 medical experts in over 450 specialties and sub-specialties. Best Doctors help HealthGap-AC members make medical decisions with confidence. They provide access to the best medical minds in the world so you can be sure you have the right diagnosis and treatment plan.
"They work with your physician to help you find specialists and get expert answers to any medical questions. Whether you're dealing with a chronic condition, questioning surgery, or facing a life-threatening illness, Best Doctors can guide you in the right direction.
"Bill Negotiation Service for Co-Pay for U.S. Medical Bills. Co-pay amounts can be astronomical as Bermudians travel abroad for medical care. HealthGap-AC clients have access to our negotiating service, risk free. Before paying an overseas medical bill, clients will simply submit their co-pay amounts to our negotiation service partners; if savings can be negotiated, clients get to keep 70 percent of these savings. No fees are assessed if savings are not attained.
"International Medical Tourism. More and more Bermudians are traveling out of the country to receive medical treatment. While many choose to go to the United States, locations like these can be very costly compared to the rest of the world. HealthGap-AC participants are provided with access to our vendor partners, who provide high quality treatment from U.S. board-certified surgeons worldwide. Procedures can often be performed for a fraction of what it would cost in the United States. MoonGate continues to speak to overseas vendors, who will be announced in the second series."
Claudette Fleming, Executive Director of Age Concern Bermuda said, "We are excited about introducing this new partnership to our members to add to the options of benefits already available to them.
"Many health insurance policies do not cover the costs of air ambulance services; for instance, neither HIP nor FutureCare provide this coverage. These services help close the gap on "major medical" coverage provided by HID and other insurers."
Minister Trevor Moniz said, "When the Government speaks of shared responsibility, particularly with respect to affordable healthcare options, we welcome the innovation of private industry to help meet the needs of the older insured population. We congratulate both MoonGate Insurance and Age Concern for doing their part in addressing the healthcare coverage needs of the Age Concern membership."
"Colin Anderson, Director of the Government's Health Insurance Department, said, "As with the launch of the Taxi Owners Affinity Program in October 2013, we applaud MoonGate Insurance for yet another successful launch of the Age Concern program.
"The MoonGate affinity program should be of interest to older subscribers of FutureCare and HIP programs as it offers the opportunity to augment existing FutureCare and HIP coverage."
"The cost of HealthGap-AC is $70.00 per month for AGE Concern members. For more information on HealthGap-AC, persons 50 years and older are encouraged to contact Age Concern by telephone at 238-7525 or by email at info@ageconcern.bm, or MoonGate Insurance by telephone at 542-2200 or by email at reception@moongatebda.bm, or by visiting them online."
Read More About