Big-hearted students at Somersfield Academy dedicated their annual Community and Service Day on June 24 to raising money for the St. Baldrick's Foundation for childhood cancer research.
Students, teachers and parents volunteered to have their heads shaved during yesterday's [June 24] school assembly as a mark of solidarity with cancer sufferers who suffer hair loss. Shaving and hair-colouring services were donated by the TK Hair Creative Team, [Tanju and Traci], and Tony at Bang Bang Hair.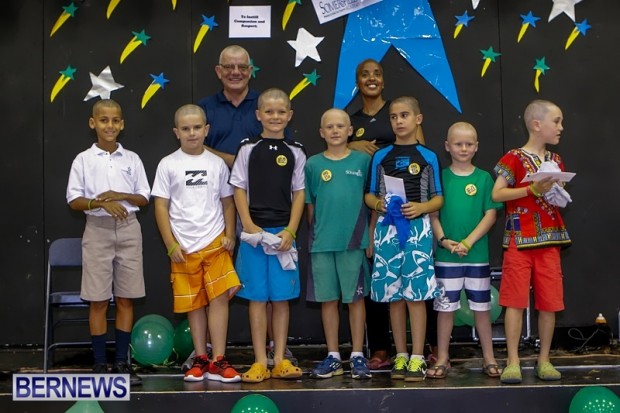 Although Bermuda's main St. Baldrick's events were staged in March, Lead Organiser Tracey Gibbons said the charity welcomed contributions at any time.
Speaking previously, Mrs Gibbons said: "Many Somersfield students and staff have generously supported St. Baldrick's in the past and this year they wanted to involve the whole school so we came up with the idea of making it the focus of the school's Community and Service Day. That way, students who want to contribute but don't want to be shaved can support their friends and be involved in a meaningful way."
School Counsellor Melisa Judd said: "Action through service is a key component of an IB-MYP education at Somersfield Academy. IB [International Baccalaureate] Learners strive to be caring members of the local community who demonstrate a personal commitment to service, and act to make a positive difference in the lives of others and to the environment. Through responsible action, Somersfield students develop the kinds of attributes that are essential for success in life."
Since 2005, the St. Baldrick's Foundation has funded more than $127 million in research grants to find a cure for childhood cancers.
Worldwide, a child is diagnosed with cancer every three minutes and more children are lost to cancer than any other disease. Fifty years ago, almost all kids diagnosed with cancer died but because of research, today about 85% of children with the most common type of cancer [acute lymphoblastic leukemia] will live.
Click to enlarge photos:
Read More About