Staff at one of the island's insurance firms are getting slimmer and fitter thanks to a wellness programme run through the world famous Virgin Group.
Colonial Medical Insurance brought the Virgin Pulse wellness programme to the island earlier this year for clients who have health insurance with the company.
It also offered its own staff the chance to take part, and results show that obesity levels have fallen and 90 percent of participating staff have ideal blood pressure.
Naz Farrow, Colonial Group International's Chief Operating Officer for Health, said, "It takes a lot of discipline and self-control if you are going to change your lifestyle in order to get healthier.
"The staff at Colonial are doing tremendously well and I hope they are all able to keep up the good work."
Left to right: Cammie Simmons, Kevin James, Sheldon Maybury, Laurie Daniels, Michael Montgomery, and Diane Hill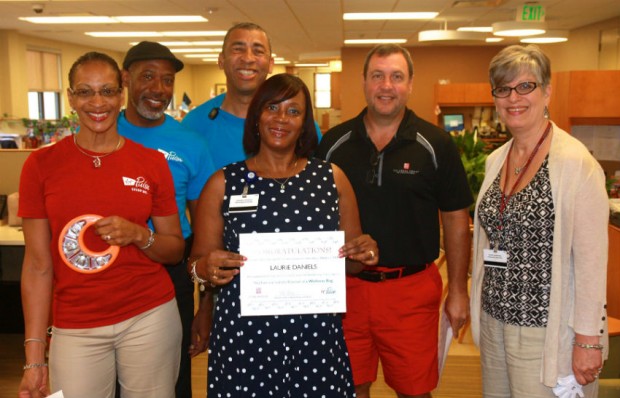 A spokesperson said, "Of the 125 Colonial staff who are eligible for the programme, 65 percent are enrolled and 90 percent have ideal blood pressure, compared to 61 percent when the programme started at the beginning of the year.
"Obesity was measured in three levels – one, two and three – with three being the worst. At the start of the programme, three percent were on level three, 17 percent on level two and 17 percent on level one. Now no-one is on level three, seven percent are on level two and 27 percent on level one.
"The programme works through an on-line health portal, which helps to keep administration costs down and which centralizes information, making it easily available to participants. Virgin Pulse has also integrated the latest technology from social, gaming, devices and mobile apps.
"When a person signs up, they get access to fun, social programmes aimed at improving not just physical health, but all aspects of life.
"Rather like some social media platforms, participants are able to interact with others to support a friend, or create active groups like a tennis group, add supporters and friends and encourage colleagues.
"There are two editions under the Virgin Pulse programme, Ultimate for Colonial Medical clients with Corporate Wellness Benefit in their medical plan, or Express for Colonial clients who have major medical coverage."
Read More About